Looking At Art Search
LOOKING AT ART: ART INVESTIGATIONS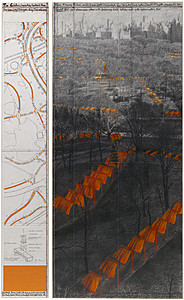 Questions for Investigation

Take a moment to look at this image. What do you notice?
Where do you think this is? Why would an artist choose this location?
This is a plan for a project called The Gates. The artists, Christo and Jeanne-Claude, installed over 7,000 fabric gates throughout Central Park, to be displayed for one month. Why do you think they chose this color for the gates? How would it be different if another color were chosen?
How do you think The Gates changes the landscape of this place?
Artwork Essay
For over three decades, husband and wife collaborators Christo and Jeanne-Claude orchestrated large-scale interventions in both the man-made and natural environments, from wrapping such architectural landmarks as the Pont Neuf in Paris and the Reichstag in Berlin in fabric, to erecting a 24-mile fence of nylon through California's Sonoma and Marin counties. While monumental in scale and ambition, these projects undermine the notion of the solitary, heroic artistic genius; they are temporary, leaving no permanent mark on the sites, and their existence is owed to the collective efforts of hundreds of workers. Christo and Jeanne-Claude engaged in lengthy campaigns to persuade myriad public-interest groups, private landowners, and municipal and state authorities in order to win permission for their projects. This social process was central to their work; the pair proposed a fundamentally democratic vision of art, one that moves beyond the walls of the museum and into the space of the community to engage the widest possible audience.
One of Christo and Jeanne-Claude's last projects before Jeanne-Claude's death in 2009, The Gates transformed New York's Central Park with 7,500 gateways clad with saffron-colored synthetic fabric, covering 23 miles of park walkways. Originally conceived in 1979, the installation was granted permission by the city in 2003, and was on view for sixteen days in February 2005. This drawing is one of a number of preparatory studies that Christo created for The Gates, as he has done for all past projects. These studies were integral tools in Christo and Jean-Claude's lobbying efforts, allowing others to visualize the proposals. The proceeds from the sales of these works also provided the resources with which the artists financed the actual installations, allowing them to forswear all public or private funding. At the same time, such drawings and collages constitute finished works in their own right, revealing consummate draftsmanship and uncanny imagination.
Ted Mann