Collection Online
Browse By
Browse By Museum
Browse By Major Acquisition
Joseph Cornell
b. 1903, Nyack, New York; d. 1972, New York City
Biography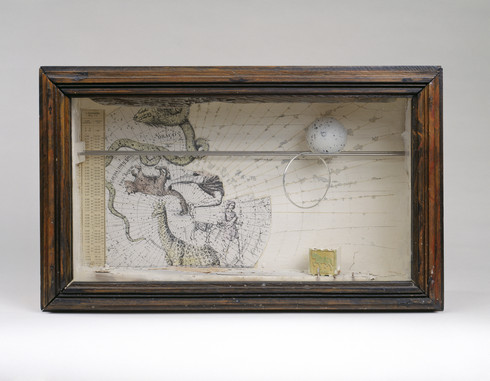 After his first exposure to Surrealist collage in 1931, Joseph Cornell began to work in that format, eventually extending it into three-dimensional box structures. Unlike many European Surrealists, however, he was less interested in disturbing the viewer than in evoking enchanted worlds past and yet to come. Cornell incorporated printed images and found objects into his boxes, which were often conceived in series. Space Object Box: "Little Bear, etc." motif is part of the Winter Night Skies series, which includes fragments of celestial maps of the northern sky. The focus of the map fragment in Space Object Box is the constellation Ursa Minor—the "Little Bear" of the title. The "etc." refers to the other personifications of stars that the artist has colored, including Cameleopardalis, the giraffe, and Draco, the dragon. The blue cork ball and the ring suggest the moon and its orbit; their movement along the two metal rods alludes to the unending cycle of celestial change. The toy block with a horse on its face is probably a punning reference to Pegasus, a square constellation.
Andromeda appears in a box from the Hotel series, Untitled (Grand Hôtel de l'Observatoire), which also contains an image of the head of Draco on a small cylinder hanging from a rod along the roof of the box; the cascading chain could refer to the long trail of stars called the Dragon's Tail. Mottled royal-blue pigment in the glistening white paint evokes the sparkling of stars in the sky. By incorporating the names of Grand Hotels, cut and pasted like hotel stationery in a scrapbook, Cornell nostalgically recalled the souvenirs of travelers. This box seems to promote the heavens as a place of respite, a view that may reflect the artist's education as a Christian Scientist. Mary Baker Eddy, the charismatic founder of the religion, believed that modern scientific theory holds a key to understanding our world. In a book that Cornell called the most important to him after the Bible, she wrote, "The astronomer will no longer look up to the stars—he will look out from them upon the universe." Cornell, who lived most of his life on Utopia Parkway in Queens, never went to Europe, although his boxes are often filled with tokens of European culture. He could no more visit the 19th-century Old World of his imagination than he could visit the stars, but he could dream about these places and invoke them in his boxes.
Jennifer Blessing
Free Guggenheim App
Download the app to explore the Guggenheim collection, plan your visit, watch videos, and more.
Send a personalized greeting today!
Guggenheim Books
Visit the Online Store to purchase exhibition catalogues, e-books, and more.