Collection Online
Browse By
Browse By Museum
Browse By Major Acquisition
Giorgio de Chirico
b. 1888, Vólos, Greece; d. 1978, Rome
Biography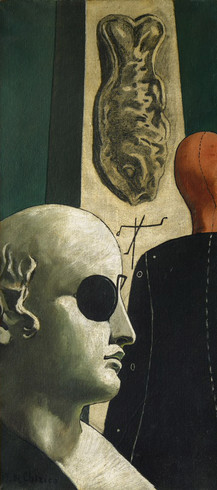 This work belongs to a series of paintings of 1914 on the subject of the poet, the best known of which is the Portrait of Guillaume Apollinaire. Recurrent motifs in the sequence are the plaster bust with dark glasses, the mannequin, and the fish mold on an obelisk. These objects, bearing no evident relationships to one another, are compressed here into a narrow vertical format that creates a claustrophobic and enigmatic space.
As in The Red Tower, the use of inanimate forms imitating or alluding to human beings has complex ramifications. The sculpture at the lower left is a painted representation of a plaster cast from a stone, marble, or metal bust by an imaginary, or at present unidentified, sculptor. The character portrayed could be mythological, historical, symbolical, or fictional. The fish is a charcoal drawing of a metal mold that could produce a baked "cast" of a fish made with an actual fish. The fish has additional connotations as a religious symbol, and the hooklike graphic sign toward which its gaping mouth is directed has its own cryptic allusiveness. The mannequin is a simplified cloth cast of a human figure—a mold on which clothing is shaped to conform to the contours of a person. Each object, though treated as solid and static, dissolves in multiple significations and paradoxes. Such amalgams of elusive meaning in Giorgio de Chirico's strangely intense objects compelled the attention of the Surrealists.
Lucy Flint
Free Guggenheim App
Download the app to explore the Guggenheim collection, plan your visit, watch videos, and more.
Send a personalized greeting today!
Guggenheim Books
Visit the Online Store to purchase exhibition catalogues, e-books, and more.