Collection Online
Browse By
Browse By Museum
Browse By Major Acquisition
Marc Chagall
b. 1887, Vitebsk, Russia; d. 1985, Saint-Paul-de-Vence, France
Biography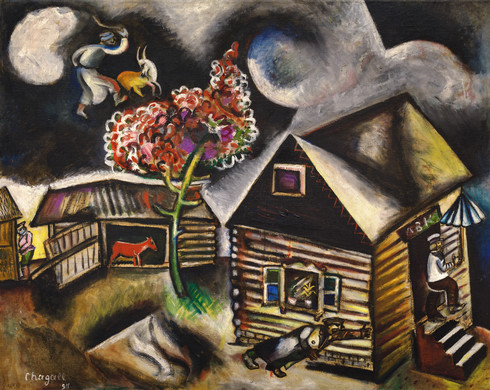 Marc Chagall's early work is characterized by a neo-primitive style derived primarily from Russian icons and folk art. When he moved from Russia to Paris in the summer of 1910, the artist took with him several of these paintings depicting the life and customs of his native Vitebsk. During the next year he reworked them and also painted new compositions with similar motifs, infused with nostalgia for his homeland, but now adapted according to techniques and concepts he acquired from exposure to current French art.
Nondescriptive, saturated color is used in Rain in combination with assertive areas of white and black to produce a highly ornamental and vivid surface. Chagall's use of color was influenced by that of Henri Matisse and Robert Delaunay, whose work he saw almost immediately upon his arrival in Paris. The breaking up of some areas of the composition into shaded planes, for example the roof of the house and the left foreground, has its source in Cubism, though this device is handled somewhat randomly.
Lucy Flint
Free Guggenheim App
Download the app to explore the Guggenheim collection, plan your visit, watch videos, and more.
Send a personalized greeting today!
Guggenheim Books
Visit the Online Store to purchase exhibition catalogues, e-books, and more.