Collection Online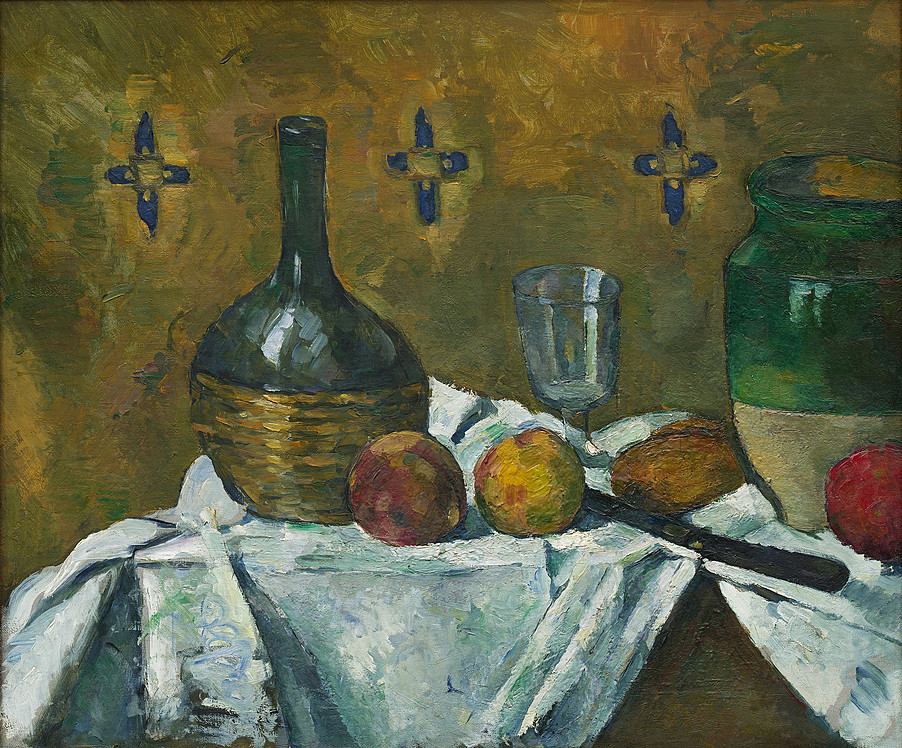 Paul Cézanne
Still Life: Flask, Glass, and Jug (Fiasque, verre et poterie)
Artist
Paul Cézanne b. 1839, Aix-en-Provence, France; d. 1906, Aix-en-Provence
Title
Still Life: Flask, Glass, and Jug (Fiasque, verre et poterie)
Date
Medium
Oil on canvas
Dimensions
18 x 21 3/4 inches (45.7 x 55.3 cm)
Credit Line
Solomon R. Guggenheim Museum, New York Thannhauser Collection, Gift, Justin K. Thannhauser, 1978
Accession
78.2514.3
Artwork Type
Movement
On View in
Paul Cézanne's shimmering landscapes, searching portraits, and complex still lifes may be viewed as the culmination of Impressionism's quest for empirical truth in painting. His work was motivated by a desire to give sculptural weight and volume to the instantaneity of vision achieved by the Impressionists, who painted from nature. Relying on his perception of objects in space as visually interrelated entities—as forms locked into a greater compositional structure—Cézanne developed a style premised on the oscillation of surface and depth. Each tiny dab of color, as demonstrated on the mottled apples in Still Life: Flask, Glass, and Jug, indicates a spatial shift while simultaneously calling attention to the two-dimensional canvas on which it rests. This play of illusion, along with the conceptual fusion of time and space, has led Cézanne to be considered the foremost precursor of Cubism.
The artist's late work, created in relative isolation in the south of France, is marked by an intensification of his perceptual analysis coupled with an increasingly introspective sensibility. In Man with Crossed Arms, the strangely distorted, proto-Cubist view of the sitter—his right eye is depicted as if glimpsed from below and the left as if seen from above—contributes an enigmatic, contemplative air to the painting. This portrait of an anonymous sitter has come to be seen as a psychological study of quiet resignation and reserve—characteristics often attributed to Cézanne during the last decade of his life.
The artist's obsession with the nuances of spatial construction and optical effect is evinced in the numerous landscapes painted during this late period. In the abandoned and overgrown quarries known as Bibémus, east of the town of Aix-en-Provence, Cézanne discovered a rough, partially man-made, and intensely chromatic landscape that suited his geometrizing style. Between 1895 and 1899 he proceeded to visually explore the geographic and tonal variations that occurred in this remote, deserted area. In the Guggenheim's canvas, Cézanne's restless strokes and intermittent patches of complementary colors form passages of flatness and volume that create at once a diaphanous surface pattern and an illusion of great depth. The artist's unique sensations of the terrain are manifest in this picture as a radiant tapestry that heralds the imminent advent of abstract painting.
Nancy Spector