Collection Online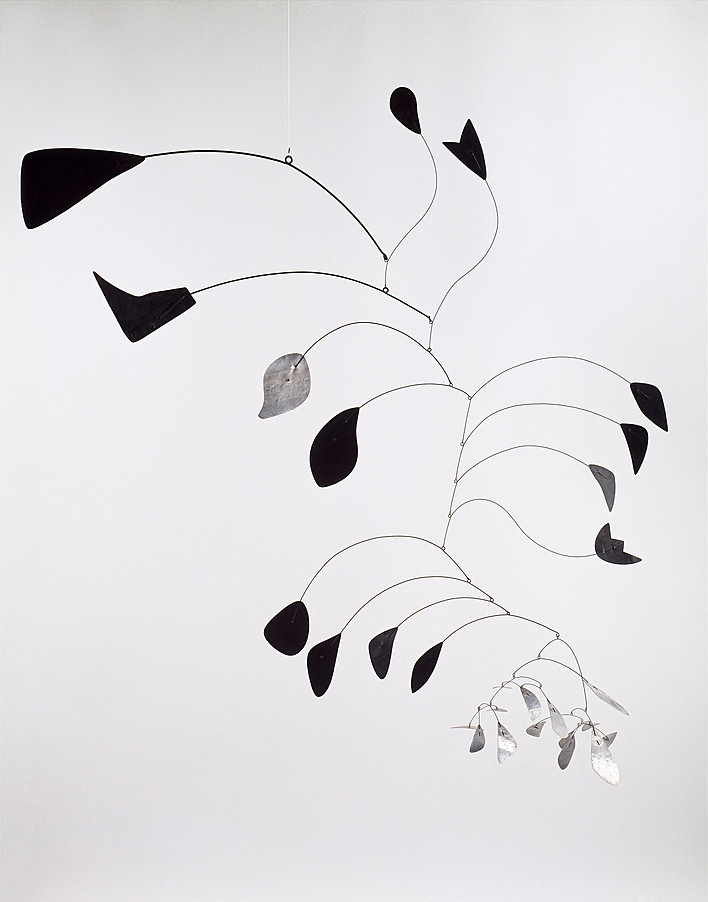 Alexander Calder
Mobile (Arc of Petals)
Artist
Alexander Calder b. 1898, Lawnton, Pennsylvania; d. 1976, New York City
Title
Mobile (Arc of Petals)
Date
Medium
Painted and unpainted sheet aluminum, iron wire, and copper rivets
Dimensions
84 1/2 inches (214.6 cm) high
Credit Line
The Solomon R. Guggenheim Foundation Peggy Guggenheim Collection, Venice, 1976
Accession
76.2553.137
Copyright
2016 Calder Foundation, New York/Artists Rights Society (ARS), New York. Photo: David Heald
Artwork Type
Movement
During the early 1930s Alexander Calder, a pioneering figure in the development of kinetic art, created sculptures in which balanced components move, some driven by motor and others impelled by the action of air currents. Marcel Duchamp first applied the descriptive designation "mobiles" to those reliant on air alone. Either suspended or freestanding, these constructions generally consist of flat pieces of painted metal connected by wire veins and stems. Their biomorphic shapes recall the organic motifs of the Surrealist painting and sculpture of his friends Joan Miró and Jean Arp. Calder, a fastidious craftsman, cut, bent, punctured, and twisted his materials entirely by hand, the manual emphasis contributing to the sculptures' evocation of natural form. Shape, size, color, space, and movement combine and recombine in shifting, balanced relationships that provide a visual equivalent to the harmonious but unpredictable activity of nature.
The present mobile is organized as an antigravitational cascade, in which large, heavy, mature shapes sway serenely at the top, while small, undifferentiated, agitated, new growth dips and rocks below. Calder left one leaf unpainted, revealing the aluminum surface and underscoring the sense of variety he considered vital to the success of a work of art. As he wrote: "Disparity in form, color, size, weight, motion, is what makes a composition. . . . It is the apparent accident to regularity which the artist actually controls by which he makes or mars a work."¹
Lucy Flint
1. Quoted in Jean Lipman, Calder's Universe, exh. cat. (New York: Viking Press in association with the Whitney Museum of American Art, 1976), p. 33.