Collection Online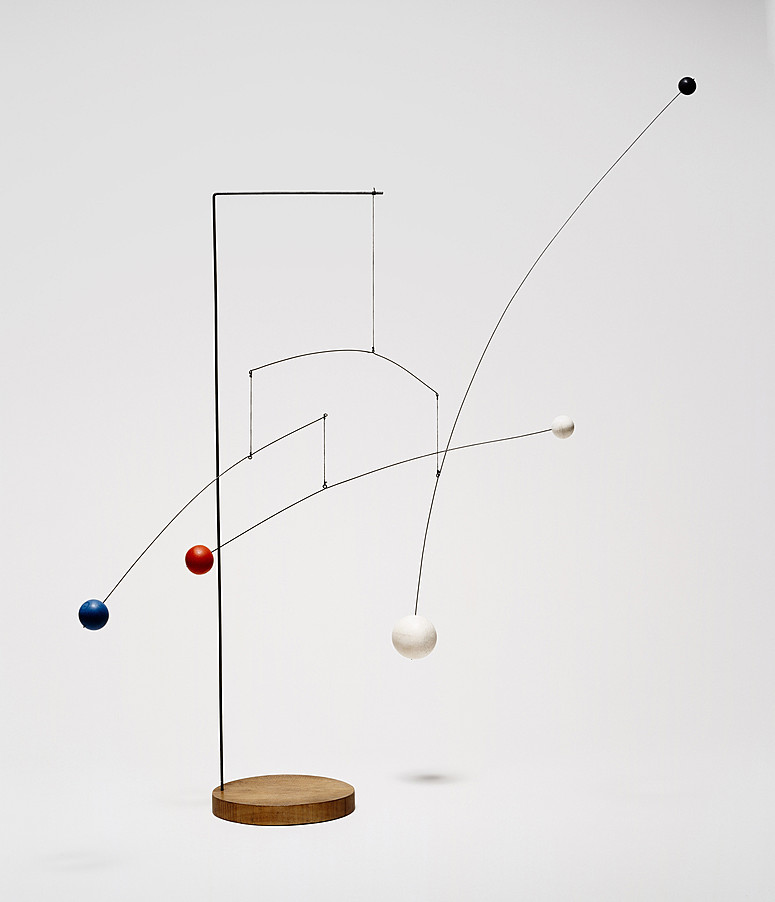 Alexander Calder
Untitled
Artist
Alexander Calder b. 1898, Lawnton, Pennsylvania; d. 1976, New York City
Title
Untitled
Date
Medium
Wood, metal, and string
Dimensions
31 inches (78.7 cm) high
Credit Line
Solomon R. Guggenheim Museum, New York Gift, Estate of Katherine S. Dreier, 1953
Accession
53.1335
Copyright
2016 Calder Foundation, New York/Artists Rights Society (ARS), New York. Photo: David Heald © SRGF
Artwork Type
Movement
The 1930s marked a significant turning point in Alexander Calder's career: during this time the focus of his work shifted from figurative wire portraiture and sculpture to more abstract works made of wood and wire, often accentuated with paint. This change was exemplified in a 1931 exhibition at the Galerie Percier in Paris, where wire portraits of friends and personalities were hung at the ceiling, overseeing his newer, often kinetic, abstractions.
Untitled (1935) is representative of Calder's floor- and pedestal-based mobiles made in the early 1930s. Here, Calder uses wood, a material that had been absent from his work since the previous decade, in combination with wire and string. Five painted wood orbs, varying in size, are organized in a spatial arrangement of counterbalance and organic movement. Calder later referred to these works as "Universes." For much of the 1930s and like other artists engaged with abstraction after World War I, Calder used cosmic descriptions and scientific terminology: "I felt that there was no better model for me. . . . Spheres of different sizes, densities, colors, and volumes, floating in space, traversing clouds . . . currents of air, viscosities and odors—of the greatest variety and disparity."1 An imagined solar system, the work is an antecedent of Calder's large, independently hanging mobiles, in which finer, less visible wires anchored to the ceiling would replace Untitled's earthbound wooden base, inverted L-shaped support, and restricted movement.
Tracey Bashkoff
1. Jonathan S. Feinstein, The Nature of Creative Development (Stanford: Stanford University Press, 2006), p. 45.