Collection Online
Browse By
Browse By Museum
Browse By Major Acquisition
Alexander Calder
b. 1898, Lawnton, Pennsylvania; d. 1976, New York City
Biography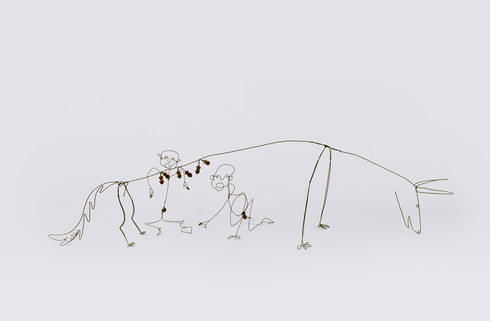 One fortuitous event associated with Alexander Calder's 1964–65 retrospective at the Guggenheim was the rediscovery of two wire sculptures made in 1928: Romulus and Remus and Spring (both are now in the museum's collection). A few years after he constructed these witty, figurative works, Calder stored them away in a closet. On retrieving them he commented, "I'd always thought these particularly humorous, but now they look like good sculpture." Romulus and Remus represents the mythological founders of Rome being suckled by a protective she-wolf. This scene, often depicted in Western art, is rendered here in a most whimsical manner: both the boys' genitals and the wolf's nipples are represented by wooden doorstops. The sculpture's armature consists of a single wire that is twisted and bent to suggest both volume and void. Romulus and Remus is a drawing executed in space; its calligraphic outline is the equivalent of Calder's rapid, abbreviated pencil-and-pen sketches of acrobats and animals. Although entertaining and uncomplicated in execution, it explores issues critical to 20th-century sculpture: the interchangeability of space and mass, translucency, and the relation of two- to three-dimensionality. While Calder experimented with other unusual materials, his favorite medium was wire. Its flexibility and capacity to vibrate may have inspired his kinetic sculptures.
Dating from 1932, Calder's first hanging sculptures of discrete movable parts powered by the wind were christened "mobiles" by Marcel Duchamp. It is now a vernacular art form, but when Calder invented it the mobile was viewed as an avant-garde achievement, a sculptural counterpart to Joan Miró's paintings of buoyant, biomorphic figures and Jean Arp's abstract reliefs. Although they are nonfigurative, Calder's hanging mobiles, particularly the monumental yet delicate Red Lily Pads, retain references to the natural world: the dancing and spinning of the disks evoke the intangible qualities of the air that propels them. According to art historian Rosalind Krauss, the mobiles—as interconnected vertical structures in space—create a sense of volume analogous to that of the human body. In their surrender to the pull of gravity and their displacement of space through motion, the mobiles become anthropomorphic metaphors.
Nancy Spector
Free Guggenheim App
Download the app to explore the Guggenheim collection, plan your visit, watch videos, and more.
Send a personalized greeting today!
Guggenheim Books
Visit the Online Store to purchase exhibition catalogues, e-books, and more.