Collection Online
Browse By
Browse By Museum
Browse By Major Acquisition
Alberto Burri
b. 1915, Città di Castello, Italy; d. 1995, Nice
Biography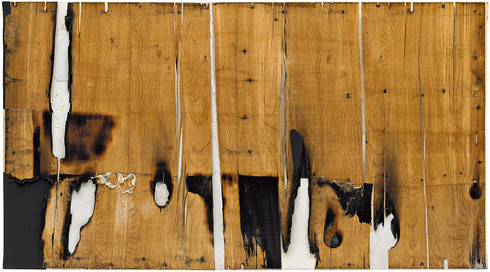 While interned as a prisoner of war in Texas during World War II, Alberto Burri—then a doctor in the Italian army—took up painting and demonstrated an early predilection for cast-off, discarded materials. After his release, Burri fully dedicated himself to art making and embraced the inherent beauty of natural, ephemeral materials and unconventional mediums. From 1950 to 1960, Burri executed a series of textile constructions called sacchi (sacks), using paint and sewn or collaged pieces of burlap and fabric. Early commentators suggested that the patchwork surfaces of the sacchi signified living flesh violated during warfare. Burri subsequently became fascinated with burning materials and began to produce wood pieces, or legni, in 1955. As seen here, Burri scorched thin sheets of wood veneer until they had achieved the desired expressive impact and then glued the sheets to canvas. The surface textures of the fragile wood panels alternate between smooth and singed, matte and shiny.
Free Guggenheim App
Download the app to explore the Guggenheim collection, plan your visit, watch videos, and more.
Send a personalized greeting today!
Guggenheim Books
Visit the Online Store to purchase exhibition catalogues, e-books, and more.