Collection Online
Browse By
Browse By Museum
Browse By Major Acquisition
James Brooks
b. 1906, St. Louis, Missouri; d. 1992, New York City
Biography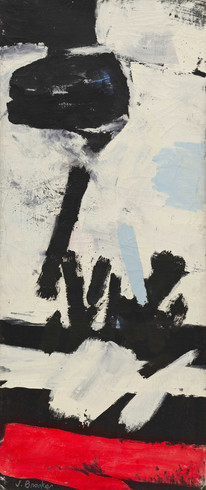 Following his military service as a combat artist, where he was entrusted with rendering images of both daily army life and the destruction wrought by war, James Brooks returned to New York and fully embraced postwar abstraction. Experimenting with the medium of painting, Brooks often exploited the accidents that occurred as an artwork was created. Brooks also frequently combined calligraphic forms and abstract shapes, as seen in Dolamen (1958), where he contrasted black with white, and added accents of pale blue and a bold red horizontal. The strong color and jagged, weighty shapes make the canvas appear larger than it is. Beginning in 1954, Brooks assigned titles to his pictures in an alphabetical sequence based on the order in which he completed them. Thus, Dolamen was the fourth Brooks painted in 1958. To the initial letter, Brooks randomly added syllables, often "inventing a word or using a seldom used, unfamiliar one with the intention of not leading the spectator to expect a certain feeling from the work."¹
1. James Brooks, quoted in Vivian Endicott Barnett, Handbook: The Guggenheim Museum Collection, 1900–1980 (New York: Solomon R. Guggenheim Foundation, 1980), p. 434.
Free Guggenheim App
Download the app to explore the Guggenheim collection, plan your visit, watch videos, and more.
Send a personalized greeting today!
Guggenheim Books
Visit the Online Store to purchase exhibition catalogues, e-books, and more.