Collection Online
Browse By
Browse By Museum
Browse By Major Acquisition
Georges Braque
b. 1882, Argenteuil-sur-Seine, France; d. 1963, Paris
Biography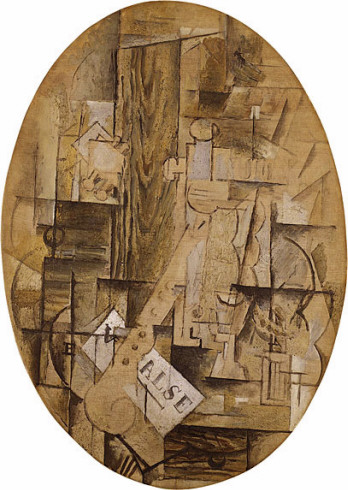 The Clarinet was probably executed in the late summer of 1912, during the waning moments of Analytic Cubism. Characteristic of this period are the oval format, which frees the canvas from the stringencies of corners, the appearance of letters within the image, and the use of imitation wood grain as trompe l'oeil (a technique Georges Braque introduced into the Cubist repertory). The image is paler and less strongly articulated than that of Pablo Picasso's The Poet of the previous summer; the structure of planes is more compact and produces a shallower picture space. The planes, because they are more consistently parallel to the picture plane than before, suggest the flat surfaces of papier collé. Braque's incorporation of sand into certain areas of his pigment, an innovation of this transitional period, enhances the differentiation of surfaces created by the variations of brushstrokes and increases the subtleties of coloration. The use of sand accords with Braque's conviction that tactile qualities define space. Despite this emphasis on materiality the image remains evanescent. The paradoxical combination of tangible presence and elusive, palpitating abstraction is embodied in the contrasting handling of clarinet and guitar: the clarinet is shown almost complete, the guitar is fragmented into pieces that emerge here and there throughout the composition.
Lucy Flint
Free Guggenheim App
Download the app to explore the Guggenheim collection, plan your visit, watch videos, and more.
Send a personalized greeting today!
Guggenheim Books
Visit the Online Store to purchase exhibition catalogues, e-books, and more.