Collection Online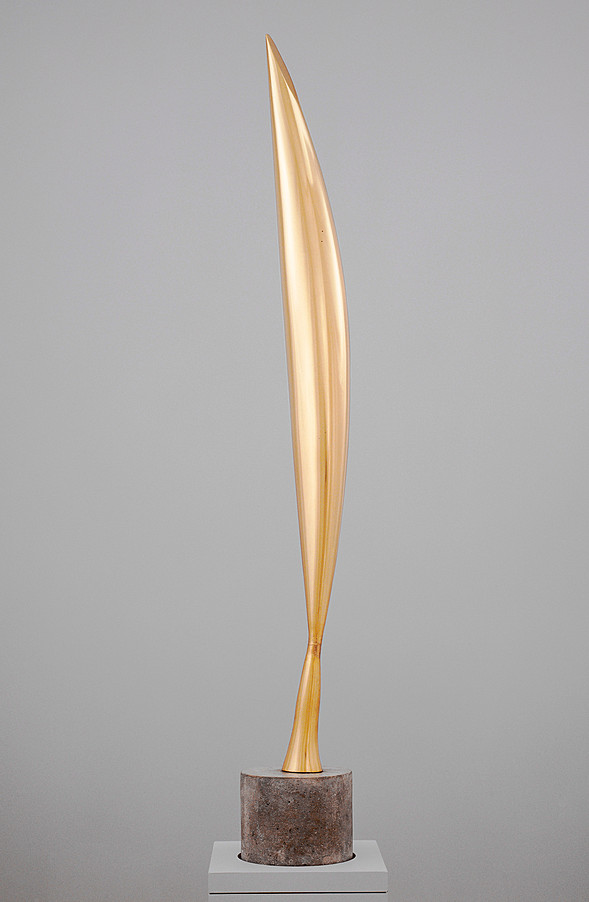 Constantin Brancusi
Bird in Space (L'Oiseau dans l'espace)
Artist
Constantin Brancusi b. 1876, Hobitza, Romania; d. 1957, Paris
Title
Bird in Space (L'Oiseau dans l'espace)
Date
Medium
Polished brass
Dimensions
59 7/16 inches (151 cm) high, including base
Credit Line
The Solomon R. Guggenheim Foundation Peggy Guggenheim Collection, Venice, 1976
Accession
76.2553.51
Copyright
2016 Artists Rights Society (ARS), New York/ADAGP, Paris. Photo: David Heald © SRGF
Artwork Type
Movement
The development of the bird theme in Constantin Brancusi's oeuvre can be traced from its appearance in the Maiastra sculptures (1910–18) through the Golden Bird (L'Oiseau d'or, 1919) group and, finally, to the Bird in Space series. Sixteen examples of the Bird in Space (L'Oiseau dans l'espace, 1923–40) sequence, dating from 1923 to 1940, have been identified. The streamlined form of the present Bird in Space (1932–1940), stripped of individualizing features, communicates the notion of flight itself rather than describing the appearance of a particular bird. A vestige of the open beak of the Maiastra is retained in the beveled top of the tapering form, a slanted edge accelerating the upward movement of the whole.
This sculpture, closely related to a marble version completed in 1931, could have been cast as early as 1932 and finished in 1940. Though the shaft of the first Bird in Space was mounted on a discrete conical support, the support of the present example is incorporated as an organically irregular stem, providing an earthbound anchor for the sleek, soaring form.
As was customary in Brancusi's work, the brass is smoothed and polished to the point where the materiality of the sculpture is dissolved in its reflective luminosity. Brancusi's spiritual aspirations, his longing for transcendence of the material world and its constraints, are verbalized in his description of Bird in Space as a "project before being enlarged to fill the vault of the sky."¹
Lucy Flint
1. Quoted in Sidney Geist, Brancusi: A Study of the Sculpture (New York: Grossman, 1968), pp. 113–14.