Collection Online
Browse By
Browse By Museum
Browse By Major Acquisition
Pierre Bonnard
b. 1867, Fontenay-aux-Roses, France; d. 1947, Le Cannet, France
Biography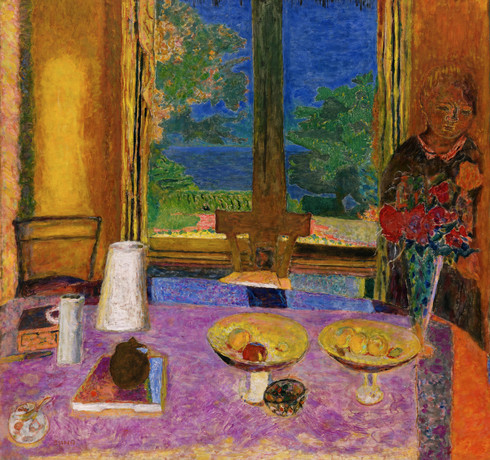 At the time Bonnard was painting this summer breakfast scene, Rockefeller Center stood half built and Europe was gearing itself for war. Yet the modern world seems all but ignored in Bonnard's painting, which harks back to the artistic tenets of the late 19th century, its vibrant colors conjuring up the canvases and theories of Paul Gauguin's circle. Around 1890, Bonnard belonged to the Nabis (from the Hebrew word for "prophet"), a group that tended to paint mystical or occult scenes in order to invoke extraordinary psychic states. As this painting shows, Bonnard still lent a hallucinatory aura to the everyday some 40 years later.
Bonnard resolutely painted subjects such as those in Dining Room on the Garden (Grande salle à manger sur le jardin, 1934–35) for most of his life, being called très japonard (very Japanese-like) for his attempts to create a charged psychological moment in a virtually non-perspectival domestic space reminiscent of Japanese prints. This painting, one of more than 60 dining-room scenes he made between 1927 and 1947, is neither decorative (as these works have often been called) nor is its subject truly his first concern. Dining Room on the Garden sets out to capture the moment and the intrinsically ungraspable play of mood and light. On close inspection, the colored areas within the flattened picture plane lose their relation to the objects depicted: a chair melds into the window frame; the window echoes the painting's borders, becoming a view within a view; and Marthe, the painter's oft-depicted wife, merges passively into her surroundings. It is in his ability to create a timeless microcosm while laying bare the gesture of applying paint to canvas that Bonnard's modernism is revealed.
Cornelia Lauf
Free Guggenheim App
Download the app to explore the Guggenheim collection, plan your visit, watch videos, and more.
Send a personalized greeting today!
Guggenheim Books
Visit the Online Store to purchase exhibition catalogues, e-books, and more.