Collection Online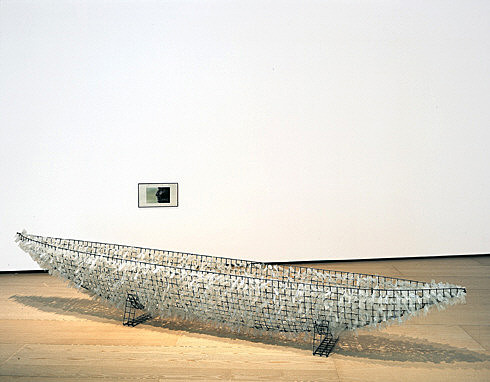 Susana Solano
Jaosokor
Artist
Susana Solano b. 1946, Barcelona
Title
Jaosokor
Date
Medium
Iron, PVC, cord, and photography
Dimensions
Overall dimensions variable
Credit Line
Guggenheim Bilbao Museoa
Accession
GBM1998.4
Copyright
2012 Artists Rights Society (ARS), New York / VEGAP, Madrid. Photo: Erika Barahona-Ede
Artwork Type
Over the years, Susana Solano's work has evolved from the realm of two-dimensional surfaces to large-scale sculptures. For her first solo exhibition in 1980 at the Fundació Joan Miró, in Barcelona, Solano presented works of canvas, brass, and wood whose qualities—lack of gesture and a focus on materials—forecast those of her future works. She went on to experiment with a diverse range of processes, such as welding, riveting, folding, and hammering, and materials, such as wood, plaster, iron, lead, and even photography. Solano's large constructions suggestive of architectural structures and domestic spaces invite the contemplation of the body in relation to its surroundings. The manner in which her works are arranged create spatial metaphors that have widened the scope for Minimalist sculpture.
Joasokor, stark and quiet, serves as a powerful example of Solano's personal, more intimate sculptures. This work comprises a canoe-shaped armature covered with strips of transparent and colorless plastic knotted at regular intervals and, hung in close proximity, a photograph of a native of Oceania—the first use of an ethnographic component in Solano's work. Although made from manufactured materials, the sculpture is reminiscent of a ritualistic object made, perhaps, for a long house of an Oceanic tribe. This impression is heightened by Solano's color photograph of the face of a South Sea Islander, in close-up and profile, hung on the wall in proximity to the sculpture. Solano was inspired to produce this work by a sojourn in Irian Jaya, the western, Indonesian part of Papua New Guinea where the artist spent time in a small village named Jaosokor.
Fragile and unstable on the surface, yet structurally robust, the sculptural component of the installation can be interpreted as an expression of the resistance of autochthonous cultures to the aggressiveness of their Western counterparts. The PVC ties call to mind some of the qualities of foam, water, and the sunlight reflected on its perpetually moving surface. By contrasting synthetic material (PVC) with an intimate artifact (the photograph) Solano comments on the ability of native cultures to endure despite the attraction of superficial, imported ideas.