Collection Online
Browse By
Browse By Museum
Browse By Major Acquisition
Joseph Beuys
b. 1921, Krefeld, Germany; d. 1986, Düsseldorf
Biography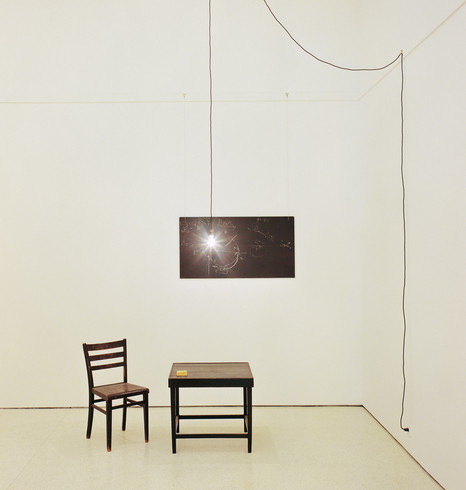 Beuys's public discussions—lectures on politics, aesthetics, metaphysics, and social relations that often served as catalysts for other work—exemplify his role as artist, teacher, and activist. One such discussion was held in Vienna on April 4, 1979, at the Galerie Nächst St. Stephan, where Beuys had been invited to speak in the context of a debate surrounding the use of Vienna's Palais Lichtenstein as a museum for modern art. Earlier that same year, the gallery had given Beuys the opportunity to create an installation entitled Basic Room–Wet Laundry (1979), a manifestation of his provocative contention that the baroque palace was as useful for hanging wet laundry as it was for displaying art. The April 4 discussion grew directly from that project. During the discussion, Beuys referred to a chalk drawing on a blackboard that showed the chemical formula for making soap. Using the soap-making process as a metaphor for social relations and its colloidal character as an analogy for the stages of fetal development, he then spoke of the cyclical nature of feminine cleansing, associating virginity and motherhood with cleanliness and impurity respectively. The lecture also related back to the notion of washing as "the traditional domain of women" presented in Basic Room–Wet Laundry. These themes were further brought to bear upon the machinations and politics of the art world, which the artist viewed with contempt. The installation Virgin, April 4, 1979, is a kind of "representation" of that lecture, and utilized the essential elements that comprised this cycle of works—soap, blackboard, a table and chair, and the single light bulb.
In the summer of that same year, Beuys made Virgin Basic–Wet Room Laundry for a major exhibition at the Vienna Secession. A further iteration of the previous two installations and lectures, this was to have been the grandest presentation of the subject of the Virgin. However, Beuys decided to isolate some (though not all) of the elements of the piece as independent objects after a vandal had damaged the work; Virgin, April 4, 1979/June 23, 1979, consists solely of the blackboard from the Vienna installation. Beuys reworked the imagery to evoke more painterly results, which he achieved by rubbing soap directly onto the surface in broad circular movements. The dual date refers to both that of the original idea—in this case, back to the April 4 discussion—and the date the piece was constituted as a self-contained object, rather than referring to the date of its actual creation, a practice occasionally used by Beuys to underscore his belief that "thinking=art."
Matthew Drutt
Free Guggenheim App
Download the app to explore the Guggenheim collection, plan your visit, watch videos, and more.
Send a personalized greeting today!
Guggenheim Books
Visit the Online Store to purchase exhibition catalogues, e-books, and more.