Collection Online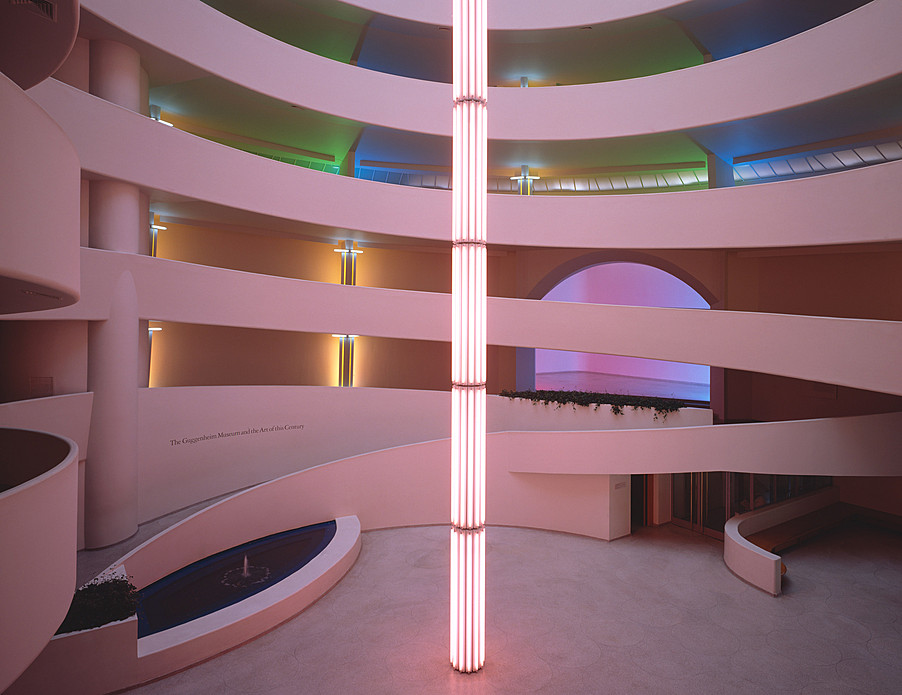 Dan Flavin
untitled (to Tracy, to celebrate the love of a lifetime)
Artist
Dan Flavin b. 1933, Jamaica, New York; d. 1996, Riverhead, New York
Title
untitled (to Tracy, to celebrate the love of a lifetime)
Date
Medium
Pink, green, blue, yellow, daylight, red, and ultraviolet fluorescent light
Dimensions
dimensions variable
Credit Line
Solomon R. Guggenheim Museum, New York
Accession
92.4017
Copyright
2016 Stephen Flavin/Artists Rights Society (ARS), New York. Installation view: Dan Flavin, Solomon R. Guggenheim Museum, New York, June 22 – August 27, 1992. Photo: David Heald.
Artwork Type
Movement
Employing only commercial fluorescent lights in his work, Dan Flavin devised a radical new art form that circumvented the limits imposed by frames, pedestals, or other conventional means of display. His embrace of the unadorned fluorescent fixture as an aesthetic object placed him at the forefront of a generation of artists whose use of industrial materials, emphasis on elementary forms, and nonhierarchical relationships among component parts became the salient characteristics of Minimalism.
The additive composition of the nominal three (to William of Ockham), dedicated to the 14th-century English philosopher, exemplifies Flavin's use of the fluorescent tube as a basic building block. The artist's installations became increasingly complex while remaining bound to the limited palette and standard lengths in which the fixtures were commercially produced. His subsequent development of a vocabulary of "corners," "barriers," and "corridors" engaged the environment his work occupied and revealed his interest in reconceptualizing sculpture in relation to space. The first of his barrier pieces, greens crossing greens (to Piet Mondrian who lacked green), transforms and even inverts the conventional museum experience by literally invading the viewer's space and prohibiting access to the gallery. The reference to Mondrian is in keeping with Flavin's practice of dedicating individual works to family, friends, or historical figures of significance to him.
The artist Mel Bochner credited Flavin's practice as embodying "an acute awareness of the phenomenology of rooms." This awareness stemmed from Flavin's rejection of studio production in favor of site-specific "situations" or "proposals" (as the artist preferred to classify his work) and is nowhere more evident than in his 1971 installation for the Guggenheim, untitled (to Ward Jackson, an old friend and colleague who, during the Fall of 1957 when I finally returned to New York from Washington and joined him to work together in this museum, kindly communicated). Initially occupying one full turn of the museum's ramps, and according to the artist, "critically fitted to the inconsistent dimensions of the variable architecture," the work was conceived so that it could be extended to fill the entire rotunda, as was done in 1992. At that time, Flavin incorporated untitled (to Ward Jackson . . . ) into an new work dedicated to his fiancée, untitled (to Tracy, to celebrate the love of a lifetime), which featured a column rising from the rotunda floor in a celebratory manner, suffusing the space with a warm pink glow. Together these installations amplified the Frank Lloyd Wright interior, exemplifying Flavin's career-long concern with light, space, and color.
J. Fiona Ragheb