Collection Online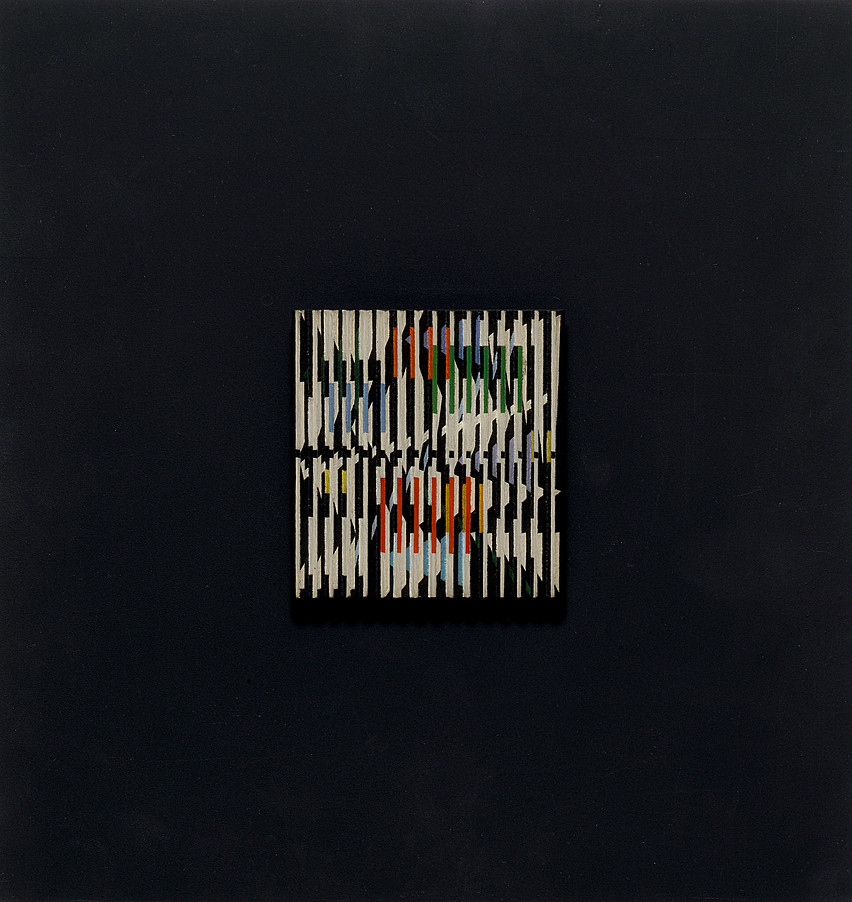 Yaacov Agam
Aventure Pictural
Artist
Yaacov Agam b. 1928, Rishon-le-Zion, Palestine
Title
Aventure Pictural
Date
Medium
Gouache on carved wood, mounted on wood
Dimensions
10 3/16 x 10 1/16 x 1 5/16 inches (25.9 x 25.5 x 3.3 cm)
Credit Line
Solomon R. Guggenheim Museum, New York Gift, Andrew Powie Fuller and Geraldine Spreckels Fuller Collection, 1999
Accession
2000.1
Copyright
2016 Artists Rights Society (ARS), New York / ADAGP, Paris
Artwork Type
Movement
As a child, Yaacov Agam, whose father was a rabbi, was educated in the synagogue rather than a secular school, and his immersion in Judaism and the Kabbalah had a major impact on his art. While he avidly produced drawings in his youth, he has noted that reading Lust for Life (1934), a biographical novel about Vincent van Gogh, marked a turning point for him. After briefly studying at the Bezalel Academy of Arts and Design in Jerusalem, he left for Zurich, where he worked with former Bauhaus professor Johannes Itten; Max Bill, the founder of Concrete art; and the architectural historian and theoretician Siegfried Giedion. In 1951 Agam stopped in Paris on his way to begin studies at the Institute of Design (also known as the New Bauhaus) in Chicago. He decided to remain in the French capital, and during the next couple of years he became acquainted with the most recent developments in geometric abstraction as well as fellow artists seeking to develop new approaches to art, among them Yves Klein.
In 1953 Agam had a solo show at the Galerie Craven, where he exhibited 18 abstract paintings that encouraged the physical engagement of the audience; some required viewers to alter their vantage point, while others invited the physical manipulation of elements of the works. In 1955 he participated in the historic show Le mouvement (The Movement) held at the Galerie Denise René. Considered by many as the first major show of Optical and Kinetic art, the exhibition marked the emergence of Agam, Pol Bury, Jesús Rafael Soto, and Jean Tinguely as proponents of a new "transformable" art that required the active participation of the viewer in the completion of the work.
Unlike these artists, however, Agam drew on his background in Judaism theorizing the work of art as a vital, ever-evolving entity. He refused to allow his art to stress immutable, invariable conditions, and instead he sought to create a work of art that remained in a constant state of becoming.
Aventure Pictural (Pictural Adventure, 1961) exemplifies Agam's emphasis on variation, participation, and optical playfulness. In the center of a black monochromatic ground, he rendered a series of variously colored parallel lines and other geometric forms that together take the form of a square. Seen frontally, these elements appear to be static, separate entities, yet they simultaneously seem to flutter. Viewed from the sides, they merge to form distinct abstract compositions that suggest both movement and three-dimensionality; a series of triangles emerges from the right, and a series of squares from the left.
In this work the act of viewing becomes an adventure for the viewer, who must discover the different pictures contained in a single object, a process of looking that unfolds over time and within a range of possibilities predetermined by the artist. For Agam, such "polyphonic" works give form to the notion that nothing in nature is fixed and that everything is merely a fragment of a larger unity.