Collection Online
Browse By
Browse By Museum
Browse By Major Acquisition
Yves Klein
b. 1928, Nice, France; d. 1962, Paris
Biography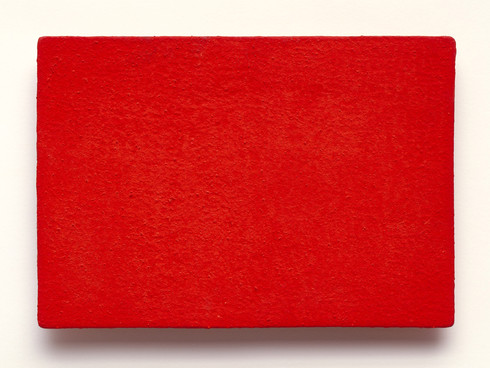 Yves Klein's first passion in life was judo. In 1952 he moved to Tokyo and studied at the Ko-do-kan Judo Institute, where he earned a black belt. When he returned to Paris in 1955 and discovered to his dismay that the Fédération Française de Judo did not extol him as a star, he shifted his attentions and pursued a secondary interest—a career in the arts. During the ensuing seven years Klein assembled a multifarious and critically complex body of work ranging from monochrome canvases and wall reliefs to paintings made with fire. He is renowned for his almost exclusive use of a strikingly resonant, powdery ultramarine pigment, which he patented under the name "International Klein Blue," claiming that it represented the physical manifestation of cosmic energy that, otherwise invisible, floats freely in the air. In addition to monochrome paintings, Klein applied this pigment to sponges, which he attached to canvases as relief elements or positioned on wire stands to create biomorphic or anthropomorphic sculptures. First exhibited in Paris in 1959, the sponge sculptures—all essentially alike, yet ultimately all different—formed a forest of discrete objects surrounding the gallery visitors. About these works Klein explained, "Thanks to the sponges—raw living matter—I was going to be able to make portraits of the observers of my monochromes, who . . . after having voyaged in the blue of my pictures, return totally impregnated in sensibility, as are the sponges."¹
For his Anthropométries series, Klein famously used nude female models drenched in paint as "brushes." His system of pressing bodies against the paper support (which was later mounted on canvas) rejected any illusion of a third dimension in the pictorial space. In these works, the subject, object, and medium become confused with one another to produce a trace of the body's presence. Klein's unconventional activities also included releasing thousands of blue balloons into the sky, and exhibiting an empty, white-walled room and then selling portions of the interior air, which he called "zones" of "immaterial pictorial sensibility." His intentions remain perplexing thirty years after his sudden death. Whether Klein truly believed in the mystical capacity of the artist to capture cosmic particles in paint and to create aesthetic experiences out of thin air and then apportion them at whim is difficult to determine. The argument has also been made that he was essentially a parodist who mocked the metaphysical inclinations of many modern painters, while making a travesty of the art market.
Nancy Spector
1. Yves Klein, "Remarques sur quelques oeuvres exposées chez Colette 'Allendy'," 1958, Klein archive, quoted in Nan Rosenthal, "Assisted Levitation: The Art of Yves Klein," in Yves Klein 1928–1962: A Retrospective, exh. cat. (Houston: Institute for the Arts, Rice University, 1982), p. 111.
Free Guggenheim App
Download the app to explore the Guggenheim collection, plan your visit, watch videos, and more.
Send a personalized greeting today!
Guggenheim Books
Visit the Online Store to purchase exhibition catalogues, e-books, and more.