Collection Online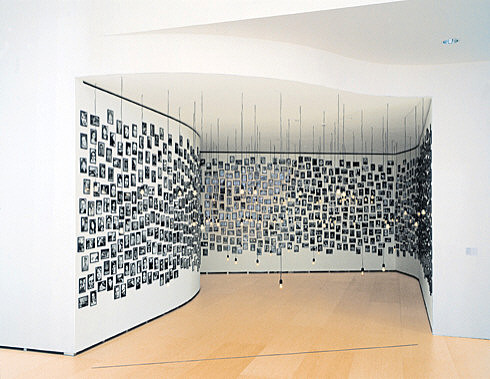 Christian Boltanski
Humans (Gizakiak)
Artist
Christian Boltanski b. 1944, Paris
Title
Humans (Gizakiak)
Date
Medium
Photographs and lights
Dimensions
overall dimensions variable
Credit Line
Guggenheim Bilbao Museoa
Accession
GBM1998.1
Copyright
. Photo: Erika Barahona-Ede
Artwork Type
Since the late 1960s, Christian Boltanski has worked with photographs collected from ordinary and often ephemeral sources, endowing the commonplace with significance. Boltanski seeks to create an art that is indistinguishable from life and has said, "The fascinating moment for me is when the spectator hasn't registered the art connection, and the longer I can delay this association the better."1 By appropriating mementos of other people's lives and placing them in an art context, Boltanski explores the power of photography to transcend individual identity and to function instead as a witness to collective rituals and shared cultural memories.
At once personal and universal in reference, Humans (1994) is one of several large-scale works by Boltanski that serves as a monument to the dead, hinting at the Holocaust without naming it explicitly. Through its size and tone, the work evokes the contemplative atmosphere of a small theater or a space for religious observance. The installation consists of more than 1,200 images that the artist rephotographed from sources he has previously used: school portraits, family photographs, newspaper pictures, and police registries. Simultaneously illuminated and obfuscated by dangling lightbulbs, the arrangement of snapshots provides no context to identify or connect the unnamed individuals, to distinguish the living from the dead or victim from criminal. Each of these traces of human life has been reduced to a uniform size to obscure distinguishing features and to suggest the equality of the group. The collection of images is installed at random, thereby prohibiting the implication of a singular narrative. Within this haunting environment, Boltanski intermingles emotion and history, juxtaposing innocence and guilt, truth and deception, sentimentality and profundity.
1. As quoted by Arthur Danto, "Christian Boltanski," The Nation, February 13, 1989 (reproduced in Arthor Danto, Encounters & Reflections: Art in the Historical Present, University of California Press, 1997: p. 263).