Collection Online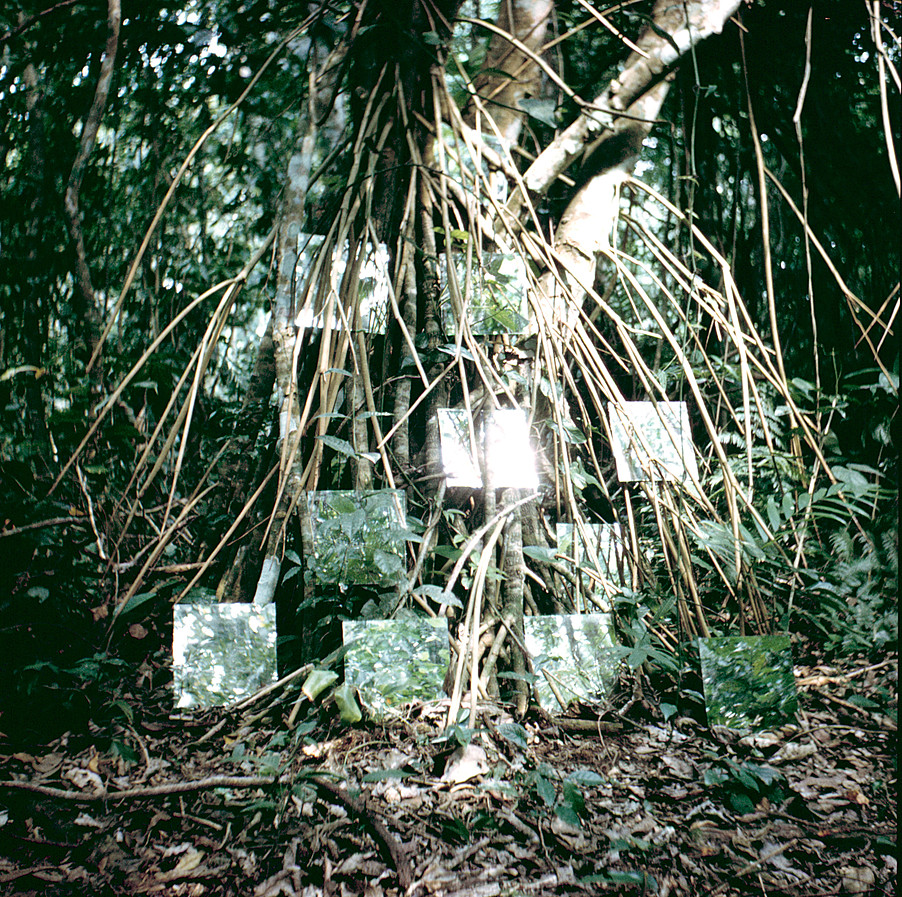 Robert Smithson
Yucatan Mirror Displacements (1-9)
Artist
Robert Smithson b. 1938, Passaic, New Jersey; d. 1973, Amarillo, Texas
Title
Yucatan Mirror Displacements (1-9)
Date
Medium
Nine chromogenic prints from chromogenic slides (126 format)
Dimensions
24 x 24 inches (61 x 61 cm) each
Credit Line
Solomon R. Guggenheim Museum, New York Purchased with funds contributed by the Photography Committee and with funds contributed by the International Director's Council and Executive Committee Members: Edythe Broad, Henry Buhl, Elaine Terner Cooper, Linda Fischbach, Ronnie Heyman, Dakis Joannou, Cindy Johnson, Barbara lane, Linda Macklowe, Brian McIver, Peter Norton Foundation, Willem Peppler, Denise Rich, Rachel Rudin, David Teiger, Ginny Williams, and Elliot K. Wolk, 1999
Accession
99.5269
Copyright
Estate of Robert Smithson/Licensed by VAGA, New York, NY
Artwork Type
Movement
Robert Smithson may be best known for his Spiral Jetty (1970), a monumental spiral of crushed rock gracing the waters of Utah's Salt Lake. But to characterize him simply as an Earthwork artist would be to miss the depth of his vision, which lies in the interstices between sculpture, Land art, photography, film, and the written word. Throughout his tragically short career, Smithson mounted an attack against the strictures of art history, which venerates the static object and divides art from the exigencies of the real world. He searched for an aesthetic form that would be coterminous with the world at large. His "nonsites," fragments taken from a landscape and framed within a gallery, broke down the polarity between inside and outside, leaving open the possibility of a third term that would contain both. Time and the phenomenon of entropy were central to his project, and photography was the perfect medium through which to capture the process and effects of duration. The act of photographing—like the activities of mapping, measuring, digging, pouring, mirroring, and writing—was an essential component of Smithson's practice. His photographic essay "A Tour of the Monuments of Passaic, New Jersey" (1967) describes tangible manifestations of entropic states—industrial structures that were already deteriorating at the time of their construction.
Hotel Palenque perfectly embodies the artist's notion of a "ruin in reverse." During a trip to Mexico in 1969, he photographed an old, eccentrically constructed hotel, which was undergoing a cycle of simultaneous decay and renovation. Smithson used these images in a lecture presented to architecture students at the University of Utah in 1972, in which he humorously analyzed the centerless, "de-architecturalized" site. Extant today as a slide installation with a tape recording of the artist's voice, Hotel Palenque provides a direct view into Smithson's theoretical approach to the effects of entropy on the cultural landscape.
While in Mexico, Smithson also created the Yucatan Mirror Displacements (1–9) by installing 12-inch-square mirrors on dispersed sites. The resulting series of nine color photographs was published in Artforum to accompany Smithson's essay "Incidents of Mirror-Travel in the Yucatan" (1969). The mirrors reflected and refracted the surrounding environs, displacing the solidity of the landscape and shattering its forms. Part Earthwork and part image, the displacements contemplate temporality; while the mirror records the passage of time, its photograph suspends time.
Nancy Spector