Collection Online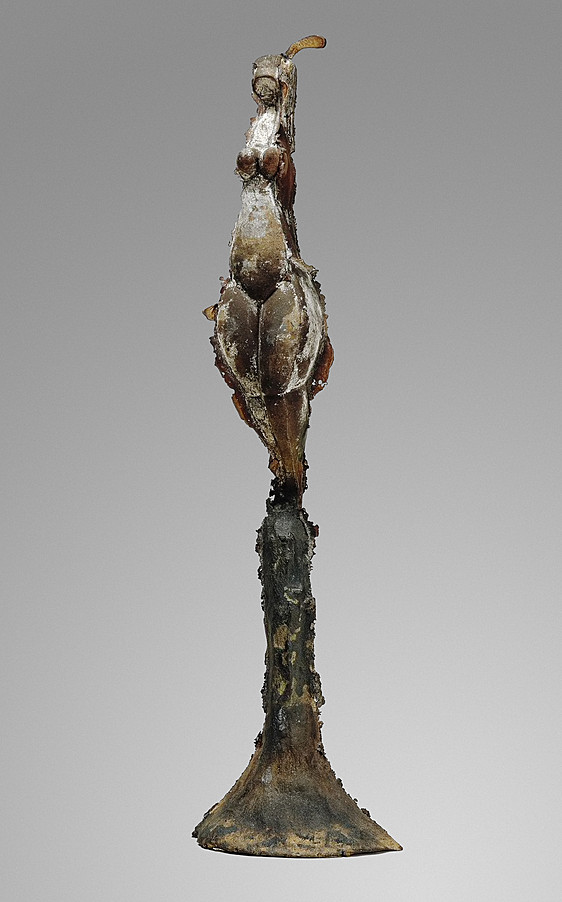 Joseph Beuys
Animal Woman (Tierfrau)
Artist
Joseph Beuys b. 1921, Krefeld, Germany; d. 1986, Düsseldorf
Title
Animal Woman (Tierfrau)
Date
Medium
Bronze
Dimensions
18 3/8 x 5 1/4 x 4 inches (46.7 x 13.3 x 10 cm)
Edition
edition 5/7
Credit Line
Solomon R. Guggenheim Museum, New York
Accession
85.3256
Copyright
2016 Artists Rights Society (ARS), New York/VG Bild-Kunst, Bonn
Artwork Type
Animal Woman, F. I. U.: The Defense of Nature, and Untitled by Joseph Beuys may be said to reflect three distinct phases in the artist's career. Animal Woman, an example of Beuys's early work, is closely tied to his years in the workshop of his teacher, Ewald Mataré. Beuys accentuated the fetishistic character of the work by finishing the various casts of the statue (there are seven casts and one artist's proof) with different patinas. The grossly enhanced sexual characteristics of Animal Woman (1949), notably the hips and breasts, are in keeping with the type of nature imagery that Mataré and he favored during the late 1940s; a primordial female nude was a recurring subject of Beuys's work at this time.
By 1962 Beuys had ceased creating objects, turning his attention to performance and sculptural experiments with nontraditional materials. F. I. U.: The Defense of Nature (F. I. U.: Difesa della Natura, 1983–85) exemplifies the way his life came to merge with his art. The work refers to an ecological campaign that Beuys and his dealer, Lucrezia de Domizio, waged in the 1980s with the help of his students at the art academy he had founded to encourage creativity—the Free International University (hence the F. I. U. of the title). The campaign required the use of a car, pamphlets, copper tubing, and spades that were meant to be plunged vigorously into the Italian countryside. Beuys sold the car, its contents, and two blackboards as part of his routine transformation of performance materials into artworks that would in turn fund other projects.
The vitrine Untitled (1984) contains Encounter with Beuys (1984), which consists of felt, fat, copper pieces, and cord, the materials he used repeatedly to describe significant events in his life. The first two materials refer to the pivotal incident in his biography, an alleged wartime plane crash in which mountain people saved his life by wrapping him in felt and fat; copper was used by Beuys to represent spiritual conduction, while cord as a readymade has fascinated artists from Piero Manzoni to Dorothea Rockburne. The placement of autobiographical objects in a vitrine relates particularly to his major 1985 exhibition in Naples, where he installed a series of golden plates and vitrines, suggesting the burial hall of a king. Beuys favored the vitrine for its ready association to ethnographic installations. As part of his fusion of rituals and their fetishes, he believed that art and artifacts could not always be distinguished from one another.
Cornelia Lauf