Collection Online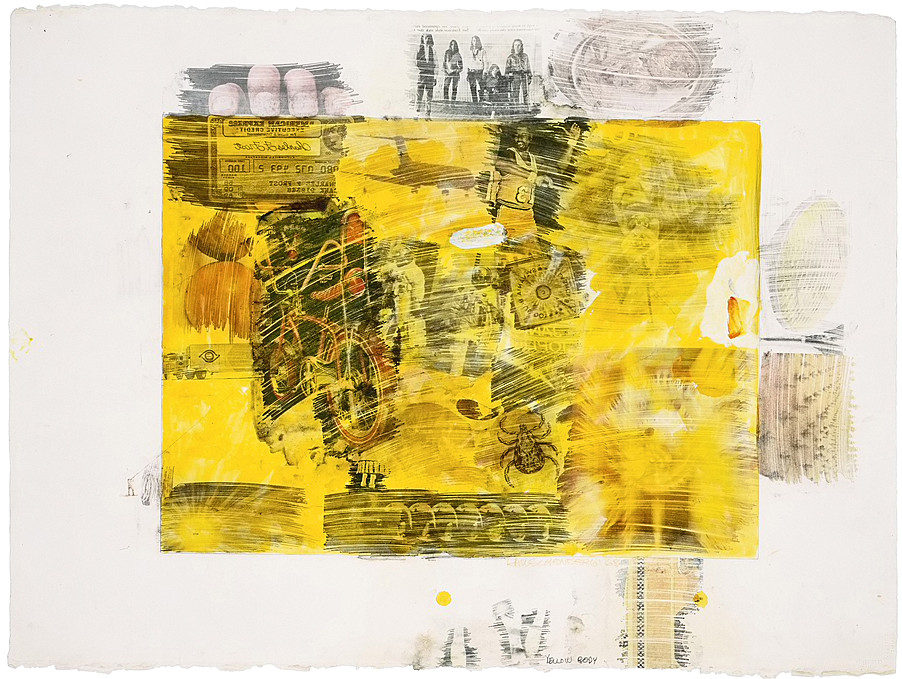 Robert Rauschenberg
Yellow Body
Artist
Robert Rauschenberg b. 1925, Port Arthur, Texas; d. 2008, Captiva Island, Florida
Title
Yellow Body
Date
Medium
Solvent transfer on paper with graphite, watercolor, gouache, and wash
Dimensions
22 1/2 x 30 inches (57.2 x 76.2 cm)
Credit Line
Solomon R. Guggenheim Museum, New York Gift, the Robert Rauschenberg Foundation, 1998
Accession
98.5219
Copyright
Art Robert Rauschenberg Foundation/Licensed by VAGA, New York, NY
Artwork Type
The pursuit of new techniques has been a continuous theme of Robert Rauschenberg's work. During a trip to Cuba in spring 1952, the artist first experimented with transfer drawings, taking printed images, primarily from newspapers and magazines, placing them face down on sheets of paper, and then rubbing the backs of the images with an empty ballpoint pen or other burnishing device to transfer the original to the paper. The technique has been described as imparting a veiled quality, which the artist heightens by applying paint, pencil, and crayon marks over the transferred images. Yellow Body exemplifies a technical development in which Rauschenberg applied a chemical solvent, such as lighter fluid, to the preprinted image, facilitating a clearer and more complete transfer.

Yellow Body demonstrates Rauschenberg's concentrated interest in the popular media and his practice of juxtaposing myriad recognizable images. The iconography of these works, which also recalls that of his early silkscreen paintings, includes modes of transportation, astronauts, athletes, and fragments of comic strips. Often an autobiographical reference will be part of this varied mix. Yellow Body includes images of fellow Port Arthur, Texas, native Janis Joplin (whom Rauschenberg met in 1968 at the New York nightclub Max's Kansas City) and Joplin's band, Big Brother and the Holding Company.

After his move to rustic Captiva Island off the Gulf Coast of Florida in 1970, Rauschenberg's focus shifted from urban and pop culture to an abstract idiom. He adopted unconventional but generic materials, such as cardboard and fabric, reflecting his consistently innovative approach to art making. By altering their properties only slightly, the artist emphasized their inherent colors and textures. No longer employing either a hand or silkscreen process to transfer images, Rauschenberg now used an old Fuchs and Lang proofing press, which he had acquired shortly after his arrival in Captiva. The process not only transmitted visual texture but also a physical imprint. In the Hoarfrost series, Rauschenberg explored fabric as an unstretched support for imagery, applying the transfer process to such lustrous and diaphanous fabrics as silk, chiffon, and satin. These works, which are simply pinned to the wall, investigate the qualities of veiling and translucency as well as the natural draping quality of fabric first seen in the Combines such as Minutiae (1954) or Odalisk (1955/58), among others. As with many of Rauschenbergs series, the earlier works have a relatively colorless palette, but more colorful and legible imagery was later developed.