Collection Online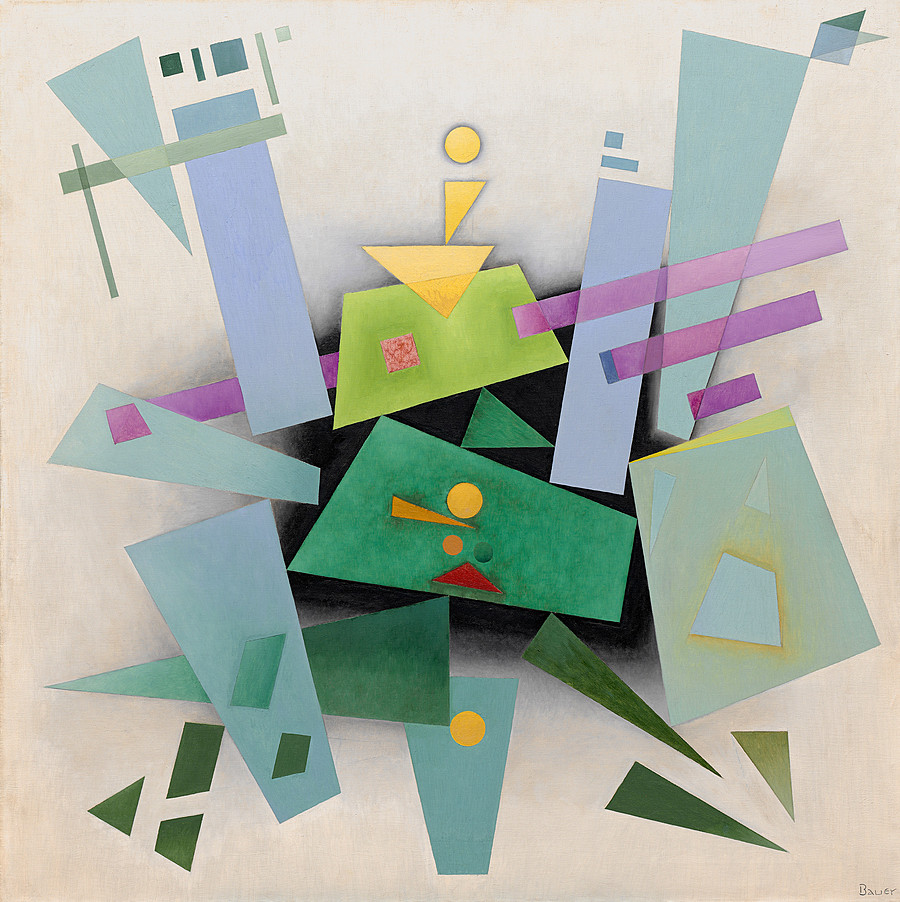 Rudolf Bauer
Invention (Composition 31)
Artist
Rudolf Bauer b. 1889, Lindenwald, Germany (now Poland); d. 1953, Deal, New Jersey
Title
Invention (Composition 31)
Date
Medium
Oil on canvas
Dimensions
51 3/8 x 51 3/8 inches (130.5 x 130.5 cm)
Credit Line
Solomon R. Guggenheim Museum, New York Solomon R. Guggenheim Founding Collection, By gift
Accession
41.149
Copyright
Rudolf Bauer
Artwork Type
The work of German artist Rudolf Bauer (1889–1953) forms an integral part of the Guggenheim Museum's Founding Collection. His work had already been introduced and exhibited in the United States by Société Anonyme co-founder Katherine Dreier in the 1920s, but it was not until Solomon R. Guggenheim became acquainted with his work in the late 1920s through the guidance of Hilla Rebay that it would be collected in any depth.
As a young artist in Berlin, where he briefly studied at the Academy of Art, Bauer created satirical illustrations for several German reviews for a living, but he was committed to abstract and nonobjective painting. In Berlin he showed his work in solo and group exhibitions at Herwarth Walden's avant-garde multidisciplinary Galerie Der Sturm together with artists such as Vasily Kandinsky, Paul Klee, and Fernand Léger, among others. Bauer taught at Der Sturm, where he met Rebay, with whom he would enter into a long relationship; and he was also the co-founder of such artistic movements as the Novembergruppe and Die Krater as well as the author of several theoretical essays. When Guggenheim began in earnest to acquire works by Kandinsky, Bauer was instrumental in locating significant works for his collection. In 1930, thanks in part to the purchase of his paintings by Guggenheim, Bauer opened his museum gallery Das Geistreich as a private salon where he exhibited his own and Kandinsky's works and which was inspirational for Rebay when she began to formulate her thoughts for a museum for Guggenheim's collection. In 1933 Bauer's work was featured in the Museum of Modern Art in the exhibition Modern European Art and again in 1934 in Modern Works of Art. In 1936 Guggenheim's collection, comprising many of Bauer's works, was publicly exhibited for the first time in Charleston, and in the same year Bauer had a solo exhibition in Chicago. In 1937 his work was included in a group exhibition in Paris as well as in the "Degenerate Art" exhibition in Munich. At this time, the Geistreich was compelled to close and Bauer was briefly arrested but was quickly released, thanks to the intervention of Rebay's brother, and left for the United States in August 1939, a few months after the Museum of Non-Objective Painting, the forerunner of the Solomon R. Guggenheim Museum, opened in midtown Manhattan.
Bauer was very prolific and his creative output comprised caricatures and satirical drawings of World War I and Weimar Berlin café society; cabaret and dance; vivid portraits and expressive female nudes; small but powerful abstract prison drawings; proto-Cubist, Futurist, abstract, and nonobjective prints; watercolors on paper; and large-scale nonobjective paintings. In a nod to Kandinsky and Rebay, his often musically titled works from the 1910s express a lyrical abstraction in an effort to unite painting and music, thus encouraging a spiritual renewal in all areas of art with works of spontaneous invention or impressions of internal and spiritual nature rather than observations of the external material world. In the late 1920s and early 1930s, Bauer's work became more geometric and may have been influenced by the modernist and functional rigor of the Bauhaus and Russian Constructivism. Invention (Composition 31) (1933), which was reproduced on the cover of the catalogue of Art of Tomorrow, the opening exhibition of the Museum of Non-Objective Painting on June 1, 1939, culminates into flat geometries tightly gravitating toward a dark center, a hazy black shape maybe symbolizing the ultimate void, harking back to the pure abstract feeling of the Suprematist Russian artist Kasimir Malevich.
Karole Vail