Collection Online
Browse By
Browse By Museum
Browse By Major Acquisition
Marina Abramović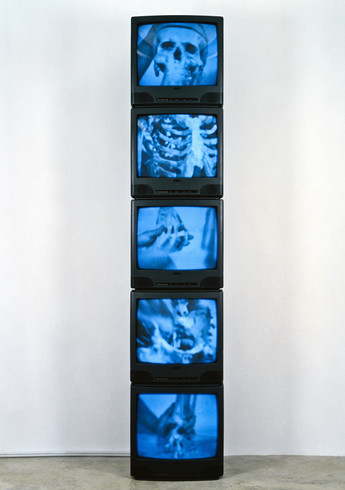 Since the beginning of her career in Belgrade during the early 1970s, Marina Abramović has pioneered the use of performance as a visual art form. The body has always been both her subject and medium. Exploring the physical and mental limits of her being, she has withstood pain, exhaustion, and danger in the quest for emotional and spiritual transformation. This particular blend of epic struggle and self-inflicted violence was borne out of the contradictions of her childhood: both parents were high-ranking officials in the socialist government, while her grandmother, with whom she had lived, was devoutly Serbian Orthodox. Though personal in origin, the explosive force of Abramović's art spoke to a generation in Yugoslavia undergoing the tightening control of communist rule.
The tensions between abandonment and control are at the heart of her series of performances known as Rhythms (1973–74). In Rhythm 5 (1974), Abramović lay down inside the blazing frame of a wooden star. With her oxygen supply depleted by the fire, she lost consciousness and had to be rescued by concerned onlookers. In Rhythm 10 (1973), she plunged a knife between the spread fingers of one hand, stopping only after she had cut herself 20 times. Having made an audio recording of the action, she then played back the sound while repeating the movements—this time trying to coordinate the new gashes with the old. Using her dialogue with an audience as a source of energy, Abramović created ritualistic performance pieces that were cathartic and liberating. In Rhythm 0 (1974), she invited audience members to do whatever they wanted to her using any of the 72 items she provided: pen, scissors, chains, axe, loaded pistol, and others. This essay in submission was played out to chilling conclusions—the performance ceased when audience members grew too aggressive. Truly ephemeral, Abramović's earliest performances were documented only by crude black-and-white photographs and descriptive texts, which she published as an edition years later, choosing the most iconic images to represent the essence of her actions. Since 1976 she has utilized video to capture the temporal nature of her art. Cleaning the Mirror #1 (1995) is composed of five stacked monitors playing videos of a haunting performance in which Abramović scrubs a grime-covered human skeleton on her lap. Rich with metaphor, this three-hour action recalls, among other things, Tibetan death rites that prepare disciples to become one with their own mortality.
Nancy Spector
Free Guggenheim App
Download the app to explore the Guggenheim collection, plan your visit, watch videos, and more.
Send a personalized greeting today!
Guggenheim Books
Visit the Online Store to purchase exhibition catalogues, e-books, and more.