Collection Online
Browse By
Browse By Museum
Browse By Major Acquisition
Eduardo Chillida
b. 1924, San Sebastián, Spain; d. 2002, San Sebastián, Spain
Biography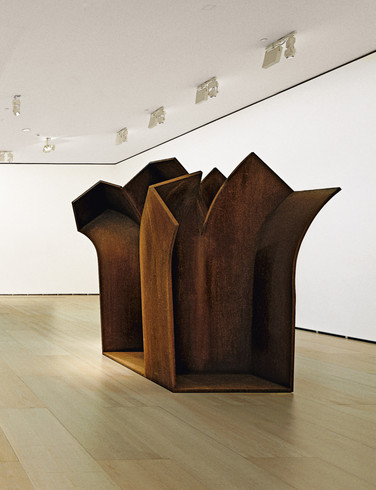 Eduardo Chillida's body of work displays the artist's evolving use of materials. Regardless of medium—whether sculpture, paper relief, graphic work, drawing, or mural—Chillida's works are physical meditations on the qualities and limitations of space.
Chillida introduced iron and steel into his practice on his return to the Basque country, after having worked with plaster and stone in Paris from 1948 to 1951. The apotheosis of hardness and inflexibility, iron is steeped in the Basque region's traditions in industry, architecture, and agriculture, and recalls its landscape and quality of light, which Chillida referred to as "black light." This term was inspired by the darker light of the Bay of Biscay, after contemplating the embodiment of the bright white light of the Mediterranean in its classical marble structures. Constructed solely of steel, Advice to Space V (1993) investigates differing experiences and interpretations of infinite space and depth. This piece combines an organic, sculptural quality with a lightness that is unique to Chillida's steel works. Transforming his ideas about space into abstract material form, Chillida realizes explorations of density, scale, and rhythm.
Free Guggenheim App
Download the app to explore the Guggenheim collection, plan your visit, watch videos, and more.
Send a personalized greeting today!
Guggenheim Books
Visit the Online Store to purchase exhibition catalogues, e-books, and more.