Collection Online
Browse By
Browse By Museum
Browse By Major Acquisition
Édouard Vuillard
b. 1868, Cuiseaux, France; d. 1940, La Baule, France
Biography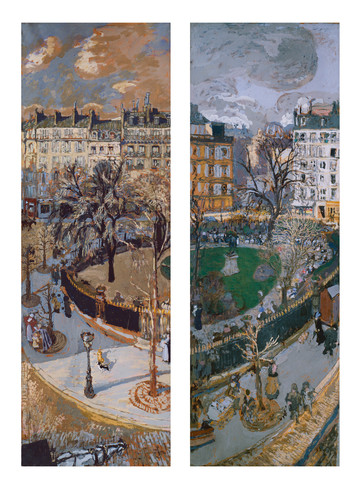 Moving between the extremes of minute domestic interiors and monumental, tapestry-like decorative canvases, French artist Édouard Vuillard persisted in emphasizing the surface of his paintings with matte multicolored patterns, muted stippling, and flattened space. Born in Cuiseaux, France, Vuillard moved to Paris in 1877, eventually attending the Académie Julian and the École des Beaux-Arts. Over time he met several of the artists who would become, as he did, members of the Nabis (the prophets). This Post-Impressionist group, which challenged current naturalist impulses and the elitism of easel painting, pursued subject matter infused with suggestive Symbolist themes and a style characterized by intense color, synthetic two-dimensional compositions, and reductive forms, often in large-scale decorative works. Vuillard also was dubbed an Intimist—along with Nabis members such as Pierre Bonnard and Ker-Xavier Roussel—because he culled his subject-matter from the intimate world of family life. He habitually depicted his seamstress mother (with whom he lived until her death in 1928) and his sister in claustrophobic images filled with a profusion of patterns: striped dresses, variegated fabrics, and flowered wallpaper.
During the 1890s, Vuillard frequented the intellectuals, artists, and patrons associated with the avant-garde journal La revue blanche. Following its closure, in 1903, he gained a less radical, if more upper-class, set of friends and patrons. In this period, Vuillard shifted from painting psychologically charged interiors and mural-size outdoor scenes to more schematic bird's-eye perspectives of Paris. In 1908, he embarked on a series of commissioned decorative panels of Place Vintimille, a typical bourgeois Parisian square that he could see from the window of his apartment. In their architectural, screenlike format, the Place Vintimille (1908–10) panels hearkened back to work Vuillard had done for the theater. They also denoted his ongoing adherence to the decorative aesthetics espoused by the Nabis (which had disbanded in 1899) as well as the formal language of Japanese art, exemplified by the adoption of the screen format, the depiction of asymmetrical views, and the abrupt cropping of forms. Vuillard would continue to paint decorative works for private and public spaces, along with more traditional portraits set in interiors, until the last years of his life.
Vivien Greene
Free Guggenheim App
Download the app to explore the Guggenheim collection, plan your visit, watch videos, and more.
Send a personalized greeting today!
Guggenheim Books
Visit the Online Store to purchase exhibition catalogues, e-books, and more.