Collection Online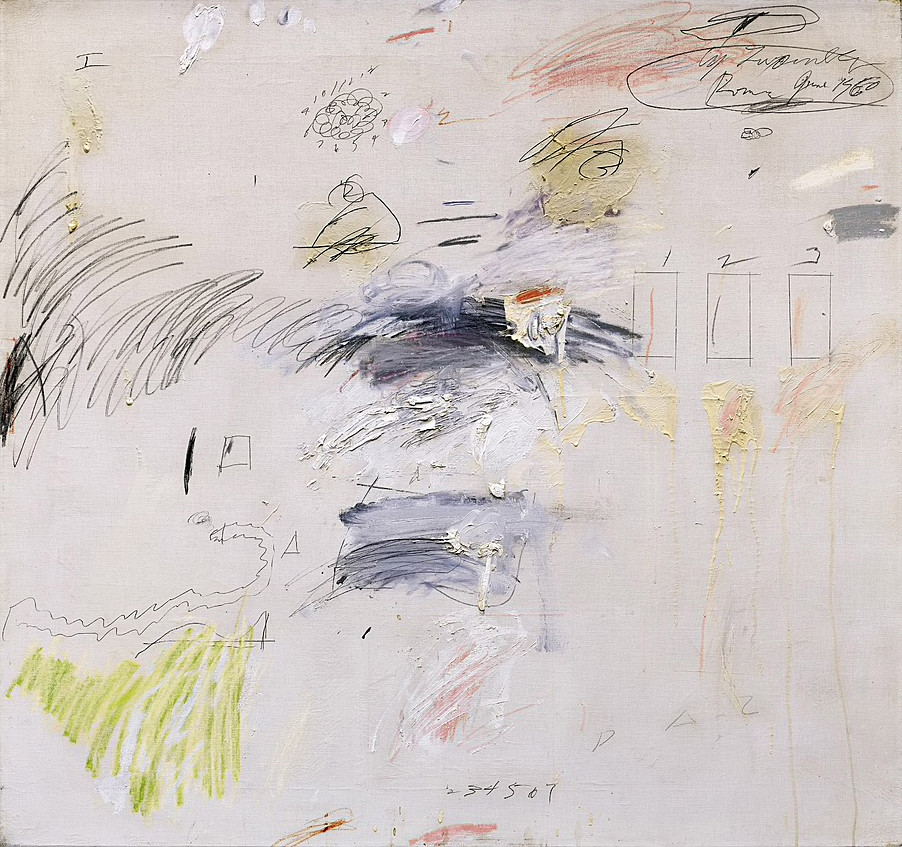 Cy Twombly
Untitled
Artist
Cy Twombly b. 1928, Lexington, Virginia; d. 2011, Rome, Italy
Title
Untitled
Date
Medium
Oil, graphite, and oil stick on canvas
Dimensions
37 1/2 x 40 1/16 inches (95.7 x 101.8 cm)
Credit Line
Solomon R. Guggenheim Museum, New York Gift, Michael and Elizabeth Rea, 1991
Accession
91.3975
Copyright
Cy Twombly
Artwork Type
Cy Twombly's paintings of the early 1960s consist of white canvases upon which he has applied scribblings and scratches in a furious flurry of crayon, pencil, and paint. The pigments are squeezed from the tube, remaining as globules that appear to hang tenuously from the surface or, as in Untitled, ejaculations of paint that drip off the canvas and are invaded by crayon and pencil smears. Like Jasper Johns and Robert Rauschenberg, Twombly employed the Abstract Expressionists' liberating aleatory use of paint, but without their heroic pretensions or universalist goals. Twombly and his colleagues utilized an iconography of everyday life (such as representations of numbers and letters) and incorporated found objects into their work, embracing banal methods such as stenciling. The suggestion of carelessness and defilement inherent in Twombly's paintings (they elicit comparisons with the sexual graffiti in a public latrine) is also present in the work of Rauschenberg, with whom Twombly traveled to Italy in 1953.
In 1957 Twombly settled in Rome, where he inspired a small school of calligraphic painters. Some of the main elements of his mature works—the graffitilike writing on a surface that suggests a wall, and an emphasis on the material properties of his mediums—dovetail with the leading concerns of continental painters, particularly of those associated with Informale (the Italian equivalent of Art Informel). Twombly's work is filled with references to his adopted home as well as to a broader neo-classical tradition; he often alludes to mythological subjects, Old Master painters, and local places or events through his titles and scrawled words or phrases on the surfaces of the works. Idyllic landscapes and their connotation of bacchanalian pleasures have consistently provided Twombly with inspiration. The palette of Untitled, for example, bears the faint echo of an 18th-century painting of a fête champêtre by Boucher or Fragonard in which sensual youths with powdered hair and strawberry-and-cream complexions gambol in sylvan glades, the breezy subject loaded with erotic innuendo. In Twombly's painting the explosive sexual charge of splatters and scribbles is complicated by a hermetic language of modern charts and graphs as if, according to art critic Roberta Smith, "an overeducated bibliophiliac suddenly—graphically, nearly obscenely̬[speaks] in tongues."¹
Jennifer Blessing
1. Roberta Smith, "The Great Mediator,"Cy Twombly: paintings, works on paper, sculpture, Whitechapel Art Gallery, Städtische Kunsthalle Düsseldorf, exh. cat. (London: Prestel, 1987), p. 15.