Collection Online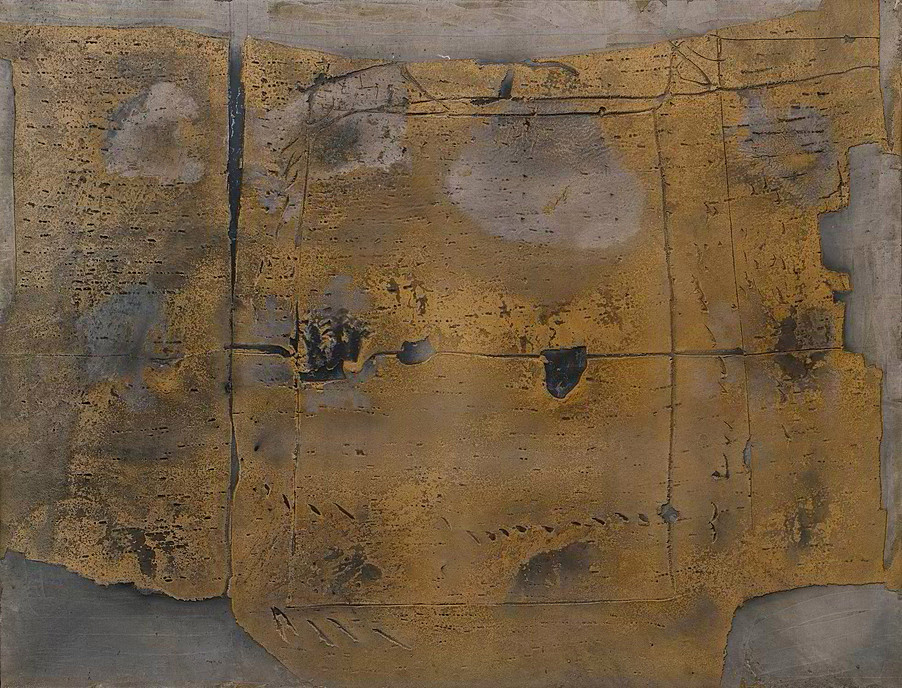 Antoni Tàpies
Great Painting (Gran pintura)
Artist
Antoni Tàpies b. 1923, Barcelona; d. 2012, Barcelona
Title
Great Painting (Gran pintura)
Date
Medium
Oil with sand on canvas
Dimensions
78 1/2 x 103 inches (199.3 x 261.6 cm)
Credit Line
Solomon R. Guggenheim Museum, New York
Accession
59.1551
Copyright
2016 Fundació Antoni Tàpies/Artists Rights Society (ARS), New York/VEGAP, Madrid
Artwork Type
Movement
In the years after World War II, both Europe and America saw the rise of predominantly abstract painting concerned with materials and the expression of gesture and marking. New Yorkers dubbed the development in the United States Abstract Expressionism, while the French named the pan-European phenomenon of gestural painting Art Informel. A variety of the latter was Tachisme, from the French word tache, meaning blot or stain. Antoni Tàpies was among the artists to receive the label Tachiste because of the rich texture and pooled color that seemed to occur accidentally on his canvases.
Tàpies reevaluated humble materials, things of the earth such as sand—which he used in Great Painting (Gran pintura, 1958)—and straw as well as the refuse of humanity such as string and bits of fabric. By calling attention to this seemingly inconsequential matter, he suggested that beauty can be found in unlikely places. Tàpies saw his works as objects of meditation that every viewer will interpret according to personal experience; he sought to inspire a contemplative reaction to reality through the integration of materials unexpected in fine art.
These images often resemble walls that have been scuffed and marred by human intervention and the passage of time. In Great Painting, an ocher skin appears to hang off the surface of the canvas; violence is suggested by the gouge and puncture marks in the dense stratum. These markings recall the scribbling of graffiti, perhaps referring to the public walls covered with slogans and images of protest that the artist saw as a youth in Catalonia—a region in Spain that experienced the harshest repression under dictator Francisco Franco. Tàpies called walls the "witnesses of the martyrdoms and inhuman sufferings inflicted on our people."¹ Great Painting suggests the artist's poetic memorial to those who have perished and those who have endured.
Jennifer Blessing
1. Antoni Tàpies, La pratique de l'art (Paris: Gallimard, 1974), p. 59.