Collection Online
Browse By
Browse By Museum
Browse By Major Acquisition
Kumi Sugaï
b. 1919, Kobe, Japan; d. 1996, Kobe
Biography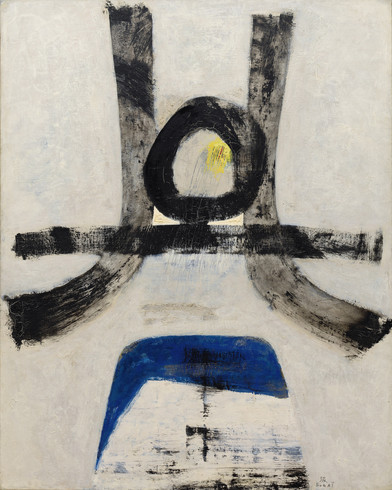 Kumi Sugaï lived and worked in Paris from 1952 until his death. Revered both in his native Japan and France, he used his early fascination with modern typography and his knowledge of East Asian calligraphy in his work. Combining and reinventing traditional aesthetics and contemporary forms, Sugaï reveals his syncretic approach to abstract painting in Shiro (June 1957). Here, his palette is restricted essentially to black, white, and blue, and the composition is at once spare and dynamic. The painting's title is a reference to its central black form, the ideogram shiro, which means white. He has enlarged the character to occupy the entire composition and placed this abstract form on a white ground, both evoking and distorting its original calligraphic source.
Free Guggenheim App
Download the app to explore the Guggenheim collection, plan your visit, watch videos, and more.
Send a personalized greeting today!
Guggenheim Books
Visit the Online Store to purchase exhibition catalogues, e-books, and more.