Collection Online
Browse By
Browse By Museum
Browse By Major Acquisition
Gino Severini
b. 1883, Cortona, Italy; d. 1966, Paris
Biography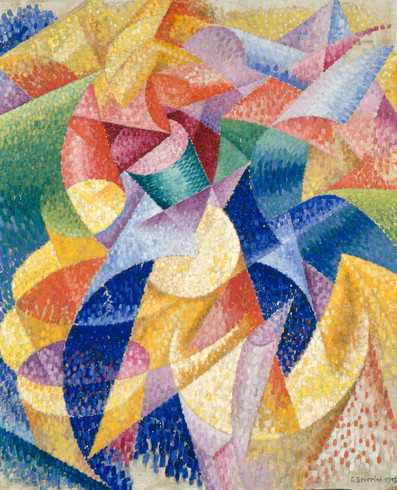 Toward the end of 1913, after he left Paris for Pienza and Rome, Gino Severini traveled to coastal Anzio for reasons of health. It was after arriving there that he executed Sea=Dancer. This painting, in which the sea and a figure are equated, illustrates his notions of "plastic analogies" as outlined in a manifesto he prepared for his solo exhibition at the Marlborough Gallery in London in 1913. According to Severini, the environment is optically determined and hence fluid, and the human figure is merely a part, albeit an inseparable part, of that metamorphic reality. In this canvas and others the cadences of the swirling motion of the dance and the dancer's costume are compared with those of the sea's movement. The large curling planes are stippled with brilliant staccato dabs of paint that cause all surfaces to vibrate as if with light. As in many other Futurist paintings, the image spills over onto the frame. The divisionist brushstroke derives from Giacomo Balla and ultimately from the Neo-Impressionists, particularly Georges Seurat. Works such as Sea=Dancer may have a specific source in Seurat's Le Chahut of 1889–90.¹
The play of cylindrical and flat planes in this painting brings to mind the contemporaneous Cubism of Fernand Léger, though the color is closer to the prismatic hues of Robert Delaunay. However, the absence of outline and the dissolution of volume distinguish Severini's work. During this period Severini's analogies of forms divest objects of their usual identities; later in 1914 he would produce entirely non-objective compositions.
Lucy Flint
1. Alfred H. Barr, Jr., Cubism and Abstract Art (New York: Museum of Modern Art, 1936), p. 58.
Free Guggenheim App
Download the app to explore the Guggenheim collection, plan your visit, watch videos, and more.
Send a personalized greeting today!
Guggenheim Books
Visit the Online Store to purchase exhibition catalogues, e-books, and more.