Collection Online
Browse By
Browse By Museum
Browse By Major Acquisition
Richard Serra
b. 1938, San Francisco, California
Biography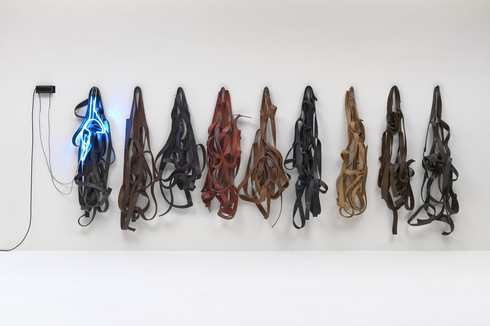 Richard Serra created Belts—tangled clusters of vulcanized rubber strips illuminated by an erratic curl of neon tubing—shortly after returning from a year of study in Italy, where he undoubtedly witnessed the very beginnings of Arte Povera. Like the artists who would come to be associated with that movement, Serra employed nontraditional materials in his sculpture, in this case belts suspended from hooks on the wall. The piece's anthropomorphic quality—the belts suggest limp figures or twisted harnesses—indicates that Serra was also familiar with contemporaneous sculptural reflections on the human body made by Eva Hesse and Bruce Nauman. Serra's style would change radically in the ensuing years, but his sensitivity to the body, its capacity for action, and its crucial role in perception has remained a constant in the work.
Serra envisions sculpture as the physical manifestation of transitive verbs. In 1967 and 1968 he compiled a list of infinitives that served as catalysts for subsequent work: "to hurl" suggested the hurling of molten lead into crevices between wall and floor; "to roll" led to the rolling of the material into dense, metal logs. While the process of fabricating these pieces was, in essence, their very subject, Serra eventually deemed them too picturesque and he shifted strategies once again. Continuing his employment of lead, Serra utilized another transitive verb: "to prop." Right Angle Prop is one of numerous lead constructions, the assemblage of which is dependent on leaning elements. Dispensing with carving and welding—conventional methods of delineating volume and securing mass—Serra created precarious sculptures that stand by virtue of equilibrium and gravity. Such pieces exist in a constant state of tension, ever revealing the process of their making, ever threatening to tilt off balance. Following the perilous choreography of propping, Serra engaged the verb "to cut" in a series of large-scale steel sculptures, variations of which he is still producing. Strike is essentially one tall, thin steel slice that, wedged into a corner, bisects the room and demands viewing from both sides. As one walks around the front of the piece, perception continually shifts: plane gives way to edge to plane again. This cut-steel sculpture is itself an implement for cutting space and, in this way, serves as an analogue for the sculptor himself, who stimulates vision by giving material form to the transitive verb.
Nancy Spector
Free Guggenheim App
Download the app to explore the Guggenheim collection, plan your visit, watch videos, and more.
Send a personalized greeting today!
Guggenheim Books
Visit the Online Store to purchase exhibition catalogues, e-books, and more.