Collection Online
Browse By
Browse By Museum
Browse By Major Acquisition
Kurt Schwitters
b. 1887, Hannover, Prussia (Germany); d. 1948, Kendal, UK
Biography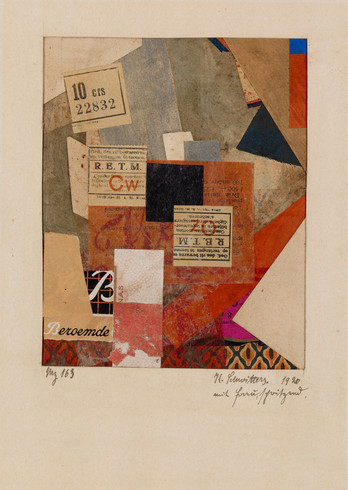 An artist, poet, and typographer, Kurt Schwitters invented his own unique aesthetic style, which he dubbed Merz in 1919. Premised on the practice of assemblage—the union of sundry quotidian items with formal artistic elements—Merz exemplified Schwitters's quest for "freedom from all fetters," cultural, political, or social. The artist's collages, of which he produced more than 2,000, and his large-scale reliefs known as Merzbilder are kaleidoscopic, sometimes whimsical accretions of humble found material—tram tickets, ration coupons, postage stamps, beer labels, candy wrappers, newspaper clippings, fabric swatches, rusty nails, and the like—that bespeak the flux of contemporary society. In his early collages, such as Merz 163, with Woman Sweating and Merz 199, Schwitters subjected his bits of flotsam to an organizing principle resembling the vertical scaffolding of Analytic Cubism, thus transforming the diverse components into formal elements. Embedded in each collage, however, are hints of narrative.
Merzbild 5B (Picture-Red-Heart-Church) contains many such abbreviated clues, which suggest that Schwitters was not the neutral, disengaged artist described by some historians. The graphic motifs—a red heart, a simple church, and the number "69"—can all be found in Schwitters's Dadaesque line drawings dating from the same year, which contain elements that are possibly autobiographical. Their reappearance in this collaged construction suggests the artist's dedication to his subject matter. The work also harbors specifically political intimations: it includes the partially concealed front page of the German newspaper Hannoverischer Kurier dated February 4, 1919 and describing the overthrow of the short-lived socialist republic of Bremen in a bloody insurrection led by conservative forces. Although Schwitters was not directly involved in this conflict, his acquaintance Ludwig Bäumer, of whom he created a Merz portrait in 1920, was a leading advocate of proletarian liberation. Bäumer's politicized, utopian aspirations were analogous, in a sense, to Schwitters's optimistic embrace of Merz as an aesthetic metaphor for free will. The artist even applied his strategy of accumulation to his own home, creating the fantastic, multicomponent, fully sculptural Merzbau in the interior of his house.
Nancy Spector
Free Guggenheim App
Download the app to explore the Guggenheim collection, plan your visit, watch videos, and more.
Send a personalized greeting today!
Guggenheim Books
Visit the Online Store to purchase exhibition catalogues, e-books, and more.