Collection Online
Browse By
Browse By Museum
Browse By Major Acquisition
Faith Ringgold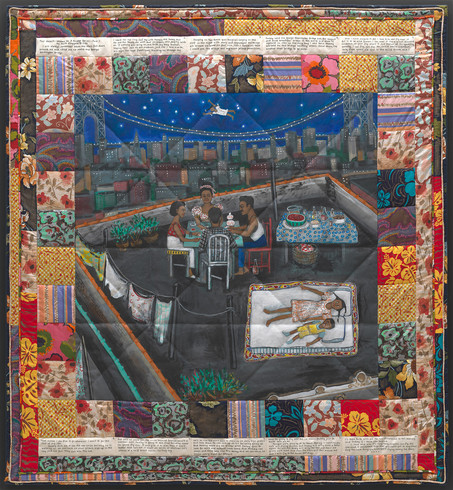 During the late 1960s and the 1970s Faith Ringgold played an instrumental role in the organization of protests and actions against museums that had neglected the work of women and people of color. Her paintings from this period are overtly political, and present an angry, critical reappraisal of the American dream glimpsed through the filter of race and gender relations. Ringgold's more recent aesthetic strategy, however, is not one of political agitation or blatant visual provocation. Instead, she has come to embrace the potential for social change by undermining racial and gender stereotypes through impassioned and optimistic presentations of black female heroines.
Ringgold's vehicle is the story quilt—a traditional American craft associated with women's communal work that also has roots in African culture. She originally collaborated on the quilt motif with her mother, a dressmaker and fashion designer in Harlem. That Ringgold's great-great-great-grandmother was a Southern slave who made quilts for plantation owners suggests a further, perhaps deeper, connection between her art and her family history. One of Ringgold's early efforts, dating from 1982, tells the tale of the stereotyped Aunt Jemima through painted images, sewn fabric, and handwritten texts. The naive, folk-art quality of the quilts is part of Ringgold's scheme to emphasize narrative over style, to convey information rather than to dazzle with elaborate technique.
Tar Beach, the first quilt in Ringgold's colorful and lighthearted series entitled Women on a Bridge, depicts the fantasies of its spirited heroine and narrator Cassie Louise Lightfoot, who, on a summer night in Harlem, flies over the George Washington Bridge. "Sleeping on Tar Beach was magical . . ." explains Cassie in the text on the quilt, "only eight years old and in the third grade and I can fly. That means I am free to go wherever I want to for the rest of my life." For Ringgold, this phantasmic flight through the urban night sky symbolizes the potential for freedom and self-possession. "My women," proclaimed Ringgold about the Women on a Bridge series, "are actually flying; they are just free, totally. They take their liberation by confronting this huge masculine icon—the bridge."
Nancy Spector
Free Guggenheim App
Download the app to explore the Guggenheim collection, plan your visit, watch videos, and more.
Send a personalized greeting today!
Guggenheim Books
Visit the Online Store to purchase exhibition catalogues, e-books, and more.