Collection Online
Browse By
Browse By Museum
Browse By Major Acquisition
Hilla Rebay
b. 1890, Strasbourg, Alsace-Lorraine; d. 1967, Greens Farms, CT
Biography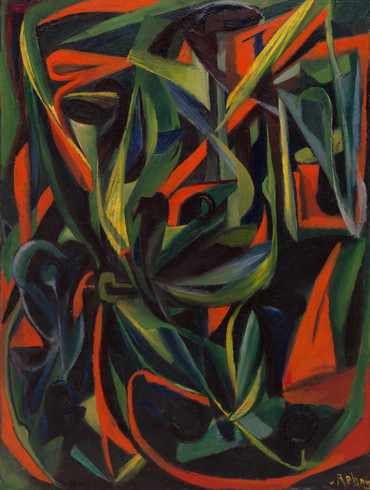 German-born Hilla Rebay was an accomplished artist, as well as the founding director and curator of the Museum of Non-Objective Painting, later named the Solomon R. Guggenheim Museum. Though trained as a classical portraitist, Rebay embraced the idea of non-objective art—nonrepresentational art with no links to the material world—as both an aesthetic style and a manifestation of spirituality. Rebay produced a prolific array of paintings and works on paper during her long career. Composition I is a dynamic canvas energized by bold colors and shapes and intensified in the foreground by a curvilinear form, a motif representing the strength of the artist's emotions that repeatedly occurs throughout her work.
—Karole Vail
Free Guggenheim App
Download the app to explore the Guggenheim collection, plan your visit, watch videos, and more.
Send a personalized greeting today!
Guggenheim Books
Visit the Online Store to purchase exhibition catalogues, e-books, and more.