Collection Online
Browse By
Browse By Museum
Browse By Major Acquisition
Mark Rothko
American, b. 1903, Dvinsk, Russia; d. 1970, New York
Biography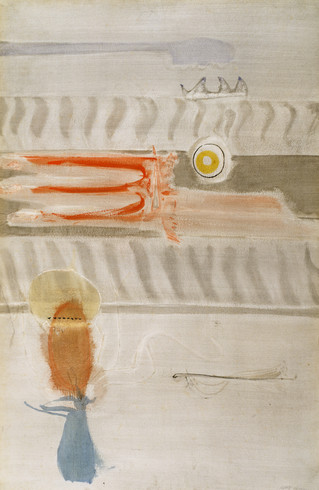 During the late 1930s and early 1940s Mark Rothko, like William Baziotes, Adolph Gottlieb, and Theodoros Stamos, combined mythical themes with primordial imagery in order to express universal experiences. In his work of this period evanescent biomorphic shapes float within an atmospheric haze. Resembling rudimentary life forms or primitive subaquatic plants and creatures, these shapes are intended to provide a visible equivalent of images lodged in the subconscious. Though he drew primarily on his innermost sensations, Rothko also looked toward earlier art. The example of Joan Miró is evoked in Sacrifice in the dotted line, the flame, the amorphic personage at the lower left, and in the meandering threadlike tendrils.
Figurative and literary allusions, albeit disguised, persist here. Architectural elements contrast with the aquatic forms and nebulous milieu: the horizontal registers are articulated like moldings, as in an untitled oil painting by Rothko of 1939–40, in which a frieze of faces appears between an undulating cornice and two ornamental tiers. The title may be inspired by Rothko's interest in Greek tragedy and Friedrich Nietzsche's examination of its origins. Despite the persistence of these references, overtly representational images have disappeared, signaling a move toward the complete abstraction of Rothko's mature style. In its horizontal zoning, cloudlike texture, and blurred contours, Sacrifice anticipates his characteristic, fully evolved Color-Field paintings.
Lucy Flint
Free Guggenheim App
Download the app to explore the Guggenheim collection, plan your visit, watch videos, and more.
Send a personalized greeting today!
Guggenheim Books
Visit the Online Store to purchase exhibition catalogues, e-books, and more.