Collection Online
Browse By
Browse By Museum
Browse By Major Acquisition
Robert Rauschenberg
b. 1925, Port Arthur, Texas; d. 2008, Captiva Island, Florida
Biography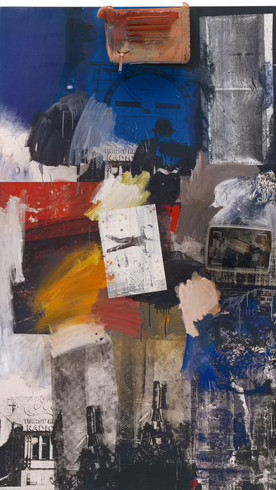 In 1962 Robert Rauschenberg first used commercially produced silkscreens to make large-format paintings based on his own photographs and found-media images. These silkscreens may be considered an extension of the transfer drawings he executed between 1958 and 1962, in which he directly transferred the contents of newspapers and magazines onto sheets of paper. Since he could photographically enlarge imagery on the silkscreens, this process freed him from the scale restrictions of the transfer technique and allowed him to easily reuse images in varied contexts. He wrote in the spiral text on his lithograph Autobiography (1968) that he "began silk screen paintings to escape familiarity of objects and collage."
Rauschenberg often worked in grisaille when experimenting in a new medium, and characteristically, the earliest silkscreened paintings are in black-and-white with resultant tones. By August 1963, however, he began to introduce brilliant color. These paintings, including Untitled (1963), best demonstrate the ways in which the artist exploited imperfections of the silkscreen process, such as subverting a perfect registry by not aligning the screens or by not using all of the colors in the four-color process (blue, red, yellow, and black). The gestural application of color in certain areas and the addition of found items (a technique reminiscent of his earlier Combines), like the metal and plastic objects in Untitled, assert the works' handmade nature. His pieces also include personal references. In Untitled, Merce Cunningham, with whom Rauschenberg had collaborated on theater and costume design since 1954, is the central image. The use of recognizable popular imagery and the application of a commercial technique led critics to identify Rauschenberg with other artists working in this idiom, including Andy Warhol, who also began to use the silkscreen process in his work at this time.
Joan Young
Free Guggenheim App
Download the app to explore the Guggenheim collection, plan your visit, watch videos, and more.
Send a personalized greeting today!
Guggenheim Books
Visit the Online Store to purchase exhibition catalogues, e-books, and more.