Collection Online
Browse By
Browse By Museum
Browse By Major Acquisition
Robert Rauschenberg
b. 1925, Port Arthur, Texas; d. 2008, Captiva Island, Florida
Biography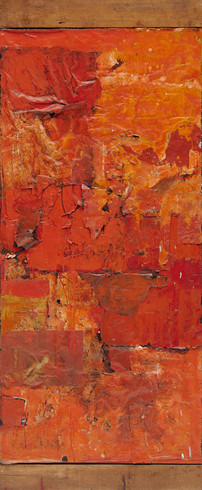 During the first five years of his career, Robert Rauschenberg engaged in formal approaches that remained constant throughout his practice. These included building up and stripping away elements to create a compositional field and an intense focus on the quality of his materials. The latter is explored in some of the artist's earliest works, including his White Paintings series (1951), in which he applied house paint with a roller to achieve smooth, uninflected surfaces. These square and rectangular panels, presented singly or in multiple groupings, incorporate the surrounding environment by capturing the patterns and reflections of light and shadow, functioning, as John Cage observed, like a "clock of the room." These works continued the monochromatic tradition established by Kazimir Malevich's Suprematist Composition: White on White (ca. 1918), reducing painting to its essential qualities in order to represent pure experience. In his black paintings of 1951 to 1953 Rauschenberg continued to work in a multipanel format and with a single color, but added texture to the surfaces by pasting layers of newspaper onto the canvas, either allowing the newsprint to show through or covering it completely with a shroud of black paint.

Rauschenberg's subsequent Red Painting (1953–54) take the additive quality of the black canvases to further expressionistic ends. He commented on his color choice in an interview with art historian Barbara Rose many years later: "I was trying to move away from black and white. Black or white, not black-and-white. So I picked the most difficult color for me to work in." These complex surfaces, in which material including news-print, comic strips, fabric, nails, and wood mingle with veils of red color, are further activated by the varied application of paint: drips, splatters, washes, heavy impasto, horizontal strokes, and pigment squeezed directly from the tube. Collage played a significant role in the creation of these works, which Rauschenberg partially framed with unembellished wooden blocks at the top and bottom edges. The fusion of the two-dimensional aspect of painting with the three-dimensionality of sculpture would be taken further in Rauschenberg's Combines, begun in 1954; indeed, the other Red Paintings may be seen as a bridge to these seminal works, which would occupy Rauschenberg for the decade to follow.
Free Guggenheim App
Download the app to explore the Guggenheim collection, plan your visit, watch videos, and more.
Send a personalized greeting today!
Guggenheim Books
Visit the Online Store to purchase exhibition catalogues, e-books, and more.