Collection Online
Browse By
Browse By Museum
Browse By Major Acquisition
Jackson Pollock
b. 1912, Cody, Wyoming; d. 1956, East Hampton, New York
Biography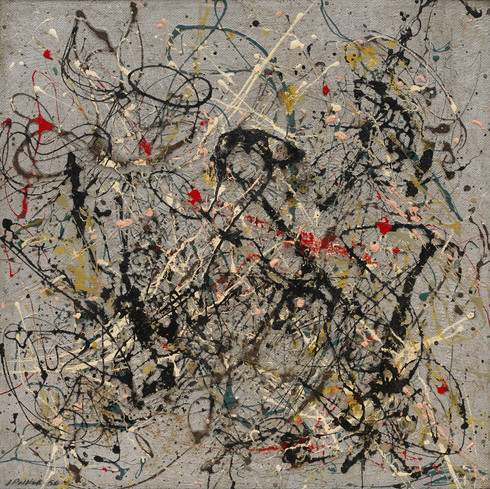 Jackson Pollock's first fully mature works—dating between 1942 and 1947—use an idiosyncratic iconography he developed in part as a response to Surrealism. Arising from this confluence of abstraction and figuration are Pollock's breakthrough works, commonly perceived as pure abstraction and made over the course of an explosive period between late 1947 and 1950, as in Number 18 (1950). In the postwar period, artists were anxiously aware of human irrationality and vulnerability; many, including Pollock, expressed their concerns in an abstract art that chronicled the ardor and exigencies of modern life. Pollock also broke free from the standard use of implements at this time, usually abandoning their direct contact with the surface. Working from above the picture plane, he dripped and poured enamel paints on canvases and papers, a method that more precisely controlled the application of line, and introduced radical new directions in art.
Free Guggenheim App
Download the app to explore the Guggenheim collection, plan your visit, watch videos, and more.
Send a personalized greeting today!
Guggenheim Books
Visit the Online Store to purchase exhibition catalogues, e-books, and more.