Collection Online
Browse By
Browse By Museum
Browse By Major Acquisition
Jackson Pollock
b. 1912, Cody, Wyoming; d. 1956, East Hampton, New York
Biography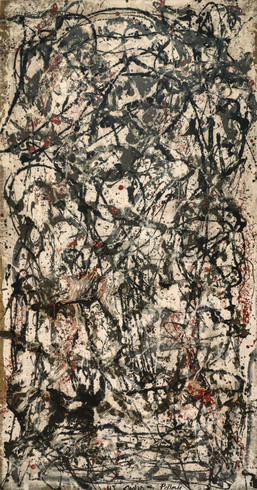 Like Alchemy, Enchanted Forest exemplifies Jackson Pollock's mature abstract compositions created by the pouring, dripping, and splattering of paint on large, unstretched canvases. In Enchanted Forest Pollock opens up the more dense construction of layered color found in works such as Alchemy by allowing large areas of white to breathe amidst the network of moving, expanding line. He also reduces his palette to a restrained selection of gold, black, red, and white. Pollock creates a delicate balance of form and color through orchestrating syncopated rhythms of lines that surge, swell, retreat, and pause only briefly before plunging anew into continuous, lyrical motion. One's eye follows eagerly, pursuing first one dripping rope of color and then another, without being arrested by any dominant focus. Rather than describing a form, Pollock's line thus becomes continuous form itself.
Michael Fried has described Pollock's achievement: "[His] all-over line does not give rise to positive and negative areas. There is no inside or outside to Pollock's line or to the space through which it moves. And that is tantamount to claiming that line, in Pollock's all-over drip paintings of 1947–50, has been freed at last from the job of describing contours and bounding shapes."¹ It is this redefinition of the traditional capacity of the artist's formal means that distinguishes Pollock's art in the history of Modernism.
Elizabeth C. Childs
Free Guggenheim App
Download the app to explore the Guggenheim collection, plan your visit, watch videos, and more.
Send a personalized greeting today!
Guggenheim Books
Visit the Online Store to purchase exhibition catalogues, e-books, and more.