Collection Online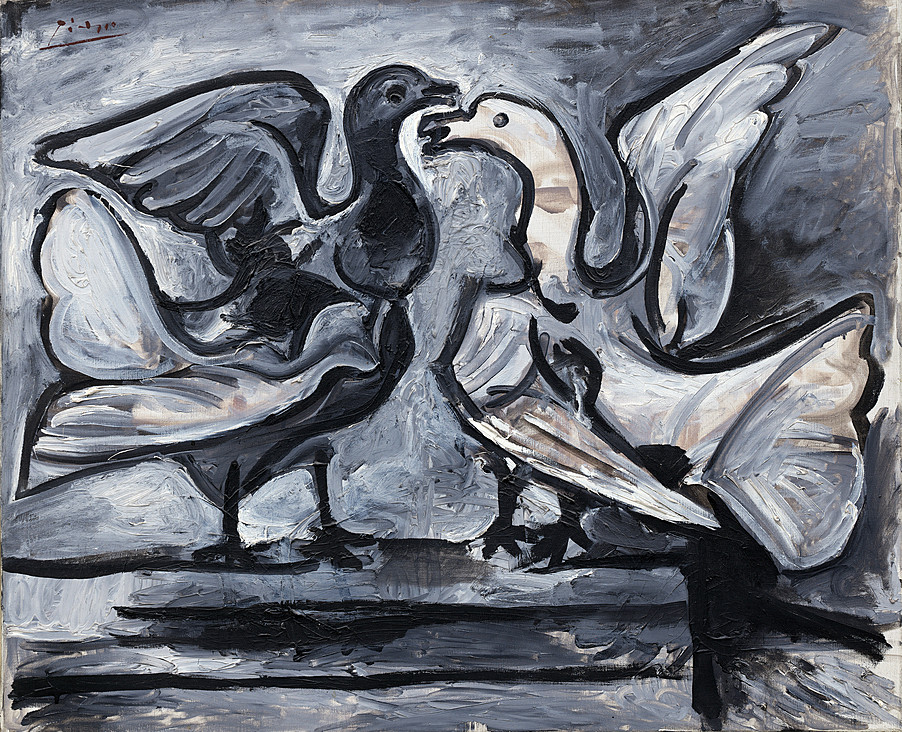 Pablo Picasso
Two Doves with Wings Spread (Deux pigeons aux ailes déployées)
Artist
Pablo Picasso b. 1881, Málaga, Spain; d. 1973, Mougins, France
Title
Two Doves with Wings Spread (Deux pigeons aux ailes déployées)
Date
Medium
Oil on linen
Dimensions
23 9/16 x 28 3/4 inches (59.7 x 73 cm)
Credit Line
Solomon R. Guggenheim Museum, New York Thannhauser Collection, Gift, Justin K. Thannhauser, 1978
Accession
78.2514.66
Copyright
2016 Estate of Pablo Picasso / Artists Rights Society (ARS), New York
Artwork Type
Movement
In 1954, a year following the departure of his longtime companion Françoise Gilot, Pablo Picasso was touched by the death of artists and friends André Derain, Henri Laurens, Henri Matisse, and Maurice Raynal. Jacqueline Roque, whom Picasso met in 1953, became his companion and remained with him throughout the remainder of his life. (Jacqueline's image permeates his work from 1954 until his death.) In 1955 the couple took up residence in La Californie, an elaborate 19th-century villa overlooking Cannes. These years and events mark the point of departure for the last phases of Picasso's production.
In his art of this period, Picasso dedicated himself to the exploration of the subject of painting. Almost systematically, he paints variations on and improvisations of old master paintings, turning to the works of Jacques-Louis David, Eugène Delacroix, Edouard Manet, Nicolas Poussin, and Diego Velázquez, among others. As art historian David Sylvester suggested, Picasso entered a friendly but competitive dialogue with the paintings of the past. Picasso himself admitted in a note written on the inside back cover of a sketchbook that, "Painting is stronger than I am; it makes me do whatever it wants."
Painted in an expressionist manner, Two Doves with Wings Spread and a later, second version were completed while Picasso was staying at La Californie, where he had built a dovecote on the third-floor balcony. Doves and pigeons figure in a number of works in Picasso's oeuvre (and interestingly, in that of his father, José Ruiz Blasco), such as his poster depicting a dove for the 1948 Peace Congress and several ceramic works from 1953.
The last twenty years of Picasso's life are marked as much by the enormous number of canvases the artist produced as by the controversial reception of these works. Criticized for the pictorial shorthand he developed to preserve the spontaneity and expressive value of his work, this period of Picasso's production is often neglected. However, as has been suggested, Picasso's formal explorations—a brushstroke that is sometimes stenographic and abbreviated, or frequently thick and flowing—is a continuation of the artist's lifelong challenge to stylistic convention, and evidence of his drive to convey vitality, liberation, and the desire to make fewer decisions as a defense against the fleeting nature of time: "I have less and less time and I have more and more to say."
Tracey Bashkoff