Collection Online
Browse By
Browse By Museum
Browse By Major Acquisition
Pablo Picasso
b. 1881, Málaga, Spain; d. 1973, Mougins, France
Biography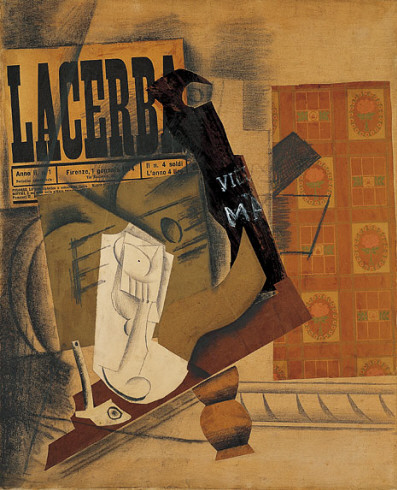 After fragmenting representational form almost to the point of extinction in 1911, the following year Pablo Picasso and Georges Braque reintroduced more legible imagery, usually derived from the environment of studio or café. Without abandoning all devices of Analytic Cubism, they developed a new idiom, referred to as Synthetic Cubism, in which they built their compositions with broader, flatter, and chromatically more varied planes. In the summer of 1912 Braque produced the first papier collé, in which cut paper is glued to the support and used as a compositional element. In the present example Picasso's pasted papers include printed material—a piece of wallpaper and the January 1, 1914, issue of Lacerba, a Futurist magazine founded in Florence in 1913. These elements mimic their functions in the external world and therefore introduce a new level of reality into the picture. The printed papers appear to be integrated into the pictorial space rather than lying flat on the surface. A transparent plane outlined in chalk appears to penetrate the newspaper and the guitar seems to cast a shadow on it; the actual physical presence of the wallpaper is similarly contradicted by the addition of drawing.
The treatment of other collaged papers multiplies meaning. In the case of the pipe or table leg, the cutout itself defines the contour of the object and is modeled accordingly with chalk. Penciled indications of other objects, such as the guitar or glass, ignore the shape of the pasted paper, which acts as both a support and a compositional element. The opacity of the collage materials is refuted and the transparency of the object depicted is upheld when Picasso discloses parts of the guitar behind the glass. On the other hand, a piece of Lacerba remains visible through the guitar, which in reality is opaque. Not only does each object have a multiple nature, but its relations in space to other objects are changeable and contradictory. The table assuredly occupies a space between the wall and the picture plane; its collaged corner overlaps a portion of wallpaper and its visible leg obscures part of a baseboard molding. Yet the depth of this space is indeterminate, as the tabletop has reared up so that it is parallel to the picture plane. The respective situations in space of the still-life subjects are equally equivocal—the silhouette of the bottle of Vieux Marc simultaneously obscures and is obscured by the guitar.
Lucy Flint
Free Guggenheim App
Download the app to explore the Guggenheim collection, plan your visit, watch videos, and more.
Send a personalized greeting today!
Guggenheim Books
Visit the Online Store to purchase exhibition catalogues, e-books, and more.