Collection Online
Browse By
Browse By Museum
Browse By Major Acquisition
Pablo Picasso
b. 1881, Málaga, Spain; d. 1973, Mougins, France
Biography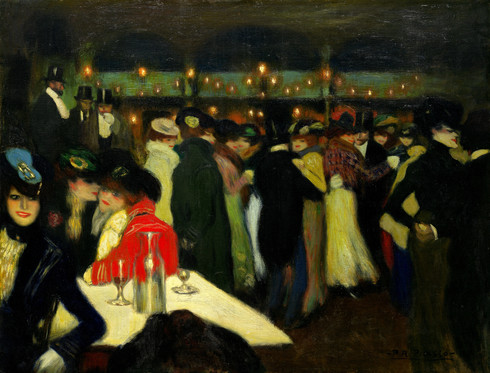 Pablo Picasso was still living in Barcelona when the 1900 World's Fair drew him to Paris for the first time. During the course of his two-month stay he immersed himself in art galleries as well as the bohemian cafés, night-clubs, and dance halls of Montmartre. Le Moulin de la Galette, his first Parisian painting, reflects his fascination with the lusty decadence and gaudy glamour of the famous dance hall, where bourgeois patrons and prostitutes rubbed shoulders. Picasso had yet to develop a unique style, but Le Moulin de la Galette is nonetheless a startling production for an artist who had just turned 19.
Parisian night life, teeming with uninhibited hedonism and vulgarity, was a popular theme in late-19th- and early 20th-century painting; artists such as Edgar Degas and Edouard Manet documented this enticing, ribald nocturnal realm. None was a more skilled chronicler or sympathetic observer of the demimonde than Henri de Toulouse-Lautrec, whose numerous paintings and graphics from the late 1880s and early 1890s of pleasure palaces and their roguish patrons were an early and important influence on Picasso. Reproductions of his expressive paintings appeared in French newspapers that circulated in Barcelona and were well known to Picasso before he came to Paris, but the firsthand experience of these canvases and the decadent culture they portrayed increased his admiration for Toulouse-Lautrec and the tradition in which they were painted. In Le Moulin de la Galette, Picasso adopted the position of a sympathetic and intrigued observer of the spectacle of entertainment, suggesting its provocative appeal and artificiality. In richly vibrant colors, much brighter than any he had previously used, he captured the intoxicating scene as a dizzying blur of fashionable figures with expressionless faces.
Jan Avgikos
Free Guggenheim App
Download the app to explore the Guggenheim collection, plan your visit, watch videos, and more.
Send a personalized greeting today!
Guggenheim Books
Visit the Online Store to purchase exhibition catalogues, e-books, and more.