Collection Online
Browse By
Browse By Museum
Browse By Major Acquisition
Claes Oldenburg and Coosje van Bruggen
Coosje van Bruggen, b. 1942, Groningen, Netherlands; d. 2009, Los Angeles; Claes Oldenburg, b. 1929, Stockholm, Sweden
Biography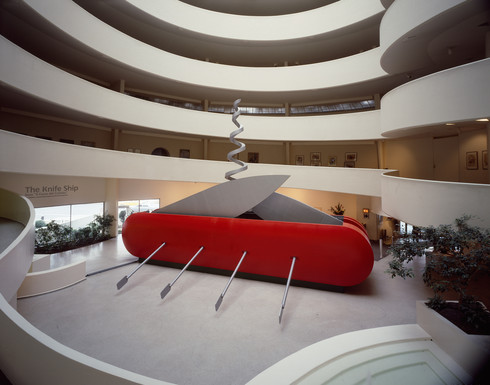 Since meeting in 1970, Claes Oldenburg and his wife, Coosje van Bruggen, a writer and curator, collaborated on more than 25 large-scale projects. In 1985 the city of Venice was introduced to the artists' humorously monumental vocabulary by The Course of the Knife, a two-day multimedia, multiwork, land-and-water spectacle that also involved human performers. As in Oldenburg's Happenings of the 1960s, objects in The Course of the Knife were transformed from props and sets into essential players, including an 18-foot-wide espresso cup and saucer, and Houseball, a 12-foot-diameter ball to which various pieces of foam furniture were bound. As a dramatic finale to the performance, the motorized sculpture Knife Ship I, a giant Swiss Army pocketknife set afloat like a colossal Venetian gondola, was launched from the Arsenale naval yard, its blade and corkscrew sails cleaving the air. Like many of their monuments to banal everyday items, Oldenburg and Van Bruggen's Knife Ship I, in its absurdity, challenges viewers' ordinary relationship to objects and the environment.
Free Guggenheim App
Download the app to explore the Guggenheim collection, plan your visit, watch videos, and more.
Send a personalized greeting today!
Guggenheim Books
Visit the Online Store to purchase exhibition catalogues, e-books, and more.