Collection Online
Browse By
Browse By Museum
Browse By Major Acquisition
Erika Verzutti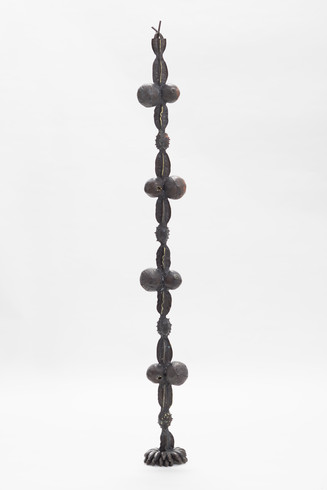 Formed from bronze casts of bananas, pomegranates, and other fruits, and inhabiting an ambiguous space between representation and abstraction, Painted Lady has an uncanny anthropomorphic quality that is also found in works by Louise Bourgeois and Eva Hesse, as well as in those of Brazilian artists Tarsila do Amaral and Maria Martins. Erika Verzutti has characterized her practice as mirroring the process of natural growth; in Painted Lady, this takes the form of a totem pole. Echoing Brancusi's Endless Column sculptures of the early twentieth century, the artist forges a link between established modernist methodologies and less outwardly rational ways of working.
Free Guggenheim App
Download the app to explore the Guggenheim collection, plan your visit, watch videos, and more.
Send a personalized greeting today!
Guggenheim Books
Visit the Online Store to purchase exhibition catalogues, e-books, and more.