Collection Online
Browse By
Browse By Museum
Browse By Major Acquisition
Javier Téllez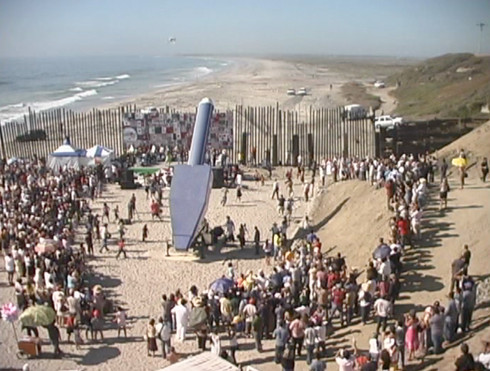 One Flew over the Void (Bala perdida) documents a parade organized by Javier Téllez in Las Playas, on the border of Tijuana and San Diego. The event featured ordinary citizens, visitors to InSITE (the periodic exhibition for which the work was produced), and patients from a local psychiatric hospital (the last disguised behind animal masks and wielding signs protesting various injustices). The performance ends with a human cannonball being shot over the border into the United States, a defiant act that transgresses social and political boundaries literally and figuratively, underscoring the hardships faced by the millions of Mexican and Central American workers who cross the border illegally every year in search of a better life.
Free Guggenheim App
Download the app to explore the Guggenheim collection, plan your visit, watch videos, and more.
Send a personalized greeting today!
Guggenheim Books
Visit the Online Store to purchase exhibition catalogues, e-books, and more.