Collection Online
Browse By
Browse By Museum
Browse By Major Acquisition
Gabriel Sierra
b. 1975, San Juan Nepomuceno, Bolivar, Colombia
Biography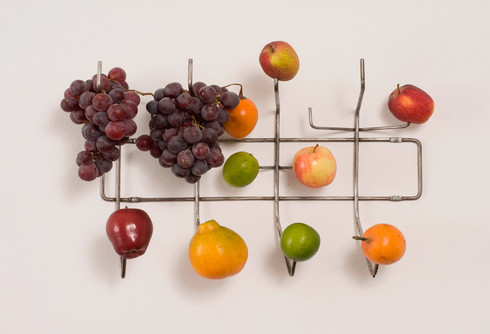 Alluding to Charles and Ray Eames's Hang-It-All coatrack (1953), an iconic work of design distinguished by an arrangement of colorful spheres that echoes models of molecular structures, Gabriel Sierra has stuck various pieces of fruit onto the prongs of a wall-mounted coatrack, thus replacing perfect geometric form with irregular organic matter. The result is a functionless object that references an inventive do-it-yourself culture in which salvaging and repurposing are commonplace.
Free Guggenheim App
Download the app to explore the Guggenheim collection, plan your visit, watch videos, and more.
Send a personalized greeting today!
Guggenheim Books
Visit the Online Store to purchase exhibition catalogues, e-books, and more.