Collection Online
Browse By
Browse By Museum
Browse By Major Acquisition
Paul Ramírez Jonas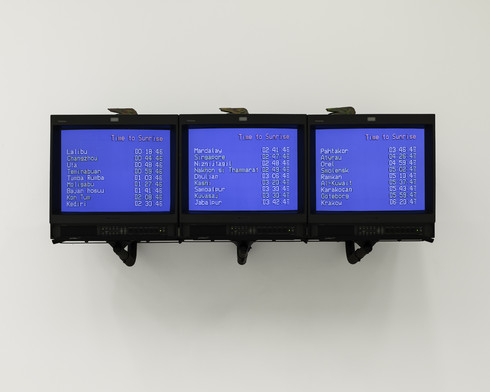 Three television monitors display an endless scroll of data reminiscent of the arrival and departure screens at airports and train stations. Each monitor presents a countdown to the next sunrise in ninety different cities, evenly spaced apart along every fourth meridian. When a sunrise occurs, the city in question disappears from the screen. While the work offers an expression of the passage of time, it also visualizes an expansion of our conception of geography (and, in the context of this exhibition, Latin America) beyond the politically determined borders of region and nation-state.
Free Guggenheim App
Download the app to explore the Guggenheim collection, plan your visit, watch videos, and more.
Send a personalized greeting today!
Guggenheim Books
Visit the Online Store to purchase exhibition catalogues, e-books, and more.