Collection Online
Browse By
Browse By Museum
Browse By Major Acquisition
Regina José Galindo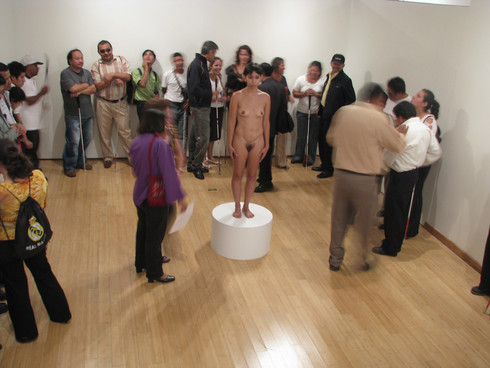 This video, which documents a performance by the artist, is a meditation on human relations and perception. Regina JoséGalindo is shown completely nude and standing on a pedestal as if she were a sculpture. Though seemingly inviting of voyeurism, the tone of the work shifts dramatically as the gallery fills with an audience of blind people, who gradually begin to move their hands over the artist's body with a mix of curiosity and mockery. Here, touch replaces sight as the primary way of knowing the world, and the work offers a metaphor for the revelatory capacity of art and the possibility of contact between subject and object, self and other.
Free Guggenheim App
Download the app to explore the Guggenheim collection, plan your visit, watch videos, and more.
Send a personalized greeting today!
Guggenheim Books
Visit the Online Store to purchase exhibition catalogues, e-books, and more.