Collection Online
Browse By
Browse By Museum
Browse By Major Acquisition
Wilson Díaz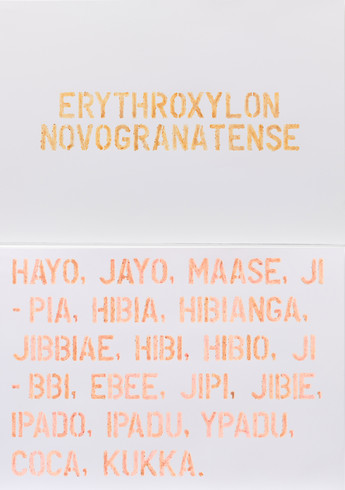 The coca plant, from which the narcotic cocaine is derived, has been an enduring object of inquiry for Wilson Díaz, whose work investigates the plant's cultural, economic, and political meanings throughout the history of Latin America. In this work, the artist presents the scientific and native names for the plant using a pigment extracted from its seeds. The directness of his method is, however, at odds with the plant's contested roles as consumer product, illegal substance, recreational drug, and traditional medicine. Díaz's use of coca blurs the boundary between artistic practice, illicit activity, and political activism.
Free Guggenheim App
Download the app to explore the Guggenheim collection, plan your visit, watch videos, and more.
Send a personalized greeting today!
Guggenheim Books
Visit the Online Store to purchase exhibition catalogues, e-books, and more.