Collection Online
Browse By
Browse By Museum
Browse By Major Acquisition
Minerva Cuevas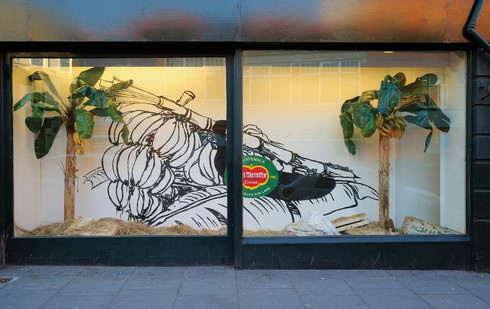 Centered on the image of a banana plant over which a modified version of the Fresh Del Monte Produce logo is superimposed, Del Montte—Bananeras narrates a history of tension between major transnational banana companies and various Latin American countries, Guatemala in particular. Representing the process by which natural resources are exploited by corporate interests, it also references cynical complicity on the part local elites. The doubled letter in the modified brand name of the title refers to José Efraín Ríos Montt, the military president of Guatemala in 1982 and 1983, who was responsible for the genocidal slaughter of members of the indigenous Ixil ethnic group. Minerva Cuevas has also hijacked the authority of the logo by replacing the self-congratulatory language of advertising with a potent message of political opposition on behalf of a long-subjugated population and landscape.
Free Guggenheim App
Download the app to explore the Guggenheim collection, plan your visit, watch videos, and more.
Send a personalized greeting today!
Guggenheim Books
Visit the Online Store to purchase exhibition catalogues, e-books, and more.